'TODAY' Show In Turmoil! Staffers Upset Katie Couric Is In Talks To Fill In For Savannah Guthrie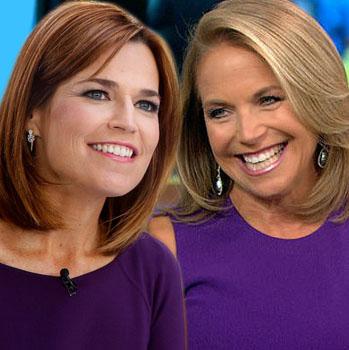 NBC's TODAY show is in turmoil yet again – and for once, it has nothing to do with tanking ratings. As rumors circulate that Katie Couric will fill in for Savannah Guthrie when she takes maternity leave later this year, RadarOnline.com has learned that staffers of the morning program are upset that an outside pinch-hitter could be coming on board -- because they believe co-hosts Natalie Morales and Tamron Hall are more than capable of handling the transition.
Article continues below advertisement
Even though Couric was part of the TODAY show family for years, "Asking her to fill in for Savannah is really a disservice to Natalie and Tamron," an insider told RadarOnline.com.
"You already have two seasoned pros that are a part of the show, ready, willing and able to step up for Savannah. Yet, executive producers are considering offering Katie or Meredith Viera the opportunity to fill in for Savannah when she goes out on maternity leave."
"It's really a step backwards for the show," the source insisted.
"If the intent is to attempt to recapture the ratings glory that prevailed when Katie and Meredith were on board, it's not going to work. If anything, it will just remind viewers how far the show has fallen since that time. The network just doesn't seem to understand that the show has no chance of being number one with Matt Lauer as part of the show, period."
Article continues below advertisement
And sources say the Hail Mary move of bringing back Couric won't change that.
The insider pointed out: "Co-hosting TODAY shouldn't be a stop-gap role, since Katie's talk show got canceled, and her new gig with Yahoo! isn't scheduled to launch for several months. Meredith Viera's talk show is going to premiere this fall, but it's just unseemly to have two former co-hosts come back for a short time."
"TODAY weekend co-hosts Ericka Hill and Jenna Wolfe could also be utilized," the source noted. "Why waste the money when there is already so much talent available that are already getting paid?"
Article continues below advertisement
But another source counters, "The show has been on a roll lately with Savannah and Matt and the rest of the team. Staffers are happy and know that the Katie stuff was blown out of proportion. Everyone also knows we have great in-house talent that will likely be chipping in when Savannah's on leave."
A rep for Couric had no comment, but another source noted she has not yet been asked to come on board.
Do you think it's a good idea for Couric or Viera to fill in for Guthrie? Sound off in the comments!