Now THAT'S Sports Memorabilia! Terrell Owens' Ex-Wife Rachel Snider Selling Wedding Dress On eBay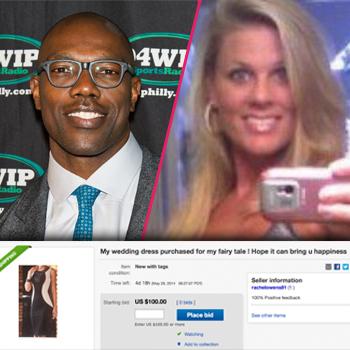 How would you like to own a special memento from a one-time spouse of an NFL All-Pro?
Granted, it might not be one of Gisele Bundchen's catwalk leftovers, or Kristin Cavallari's outfits from The Hills, Rachel Snider is selling the dress she wore when she wed retired wide receiver Terrell Owens Jan. 23 in Norwalk, Calif.
"I'm putting my wedding dress on eBay to sell," Snider, a 33-year-old postal worker by trade, told RadarOnline.com exclusively. "I'm making the statement of moving on."
Article continues below advertisement
In her listing, Snider describes the garment — listed with an opening bid of $100 — as a "simple dress bought for a courthouse wedding," and "perfect for curvy girls."
Snider's statement to us dovetails with other recent sentiments she's expressed about putting that part of her life behind her.
"I would rather make an exit respected," she wrote, "than to be laughed at as a fool."
The Beaumont, Texas beauty, whose breakup with Owens came weeks after they exchanged vows, also had words of advice for another bride (though we don't think we'll be seeing this one's dress show up on eBay anytime soon).