Exclusive
Buxom Beauty Sofia Vergara Obsesses Over Her Age & Looks: 'She's Working Overtime To Make Sure She's Still Sexy' To Launch Movie Career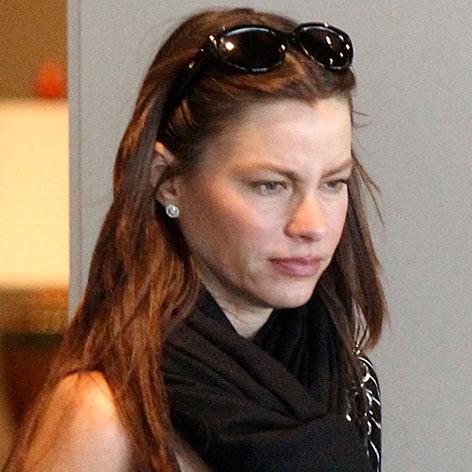 Sexy Modern Family star Sofia Vergara is obsessing over her age and looks as she hopes to leave the small screen and become a film actress, RadarOnline.com has exclusively learned.
The buxom TV beauty, 41 -- who is facing a potentially bruising contract negotiation next season to keep her and the rest of the hit show's stars in place -- also longs to make more of an impact on the big screen, a source said.
Article continues below advertisement
"Sofia continues to make noise about wanting a career in films that could get her off Modern Family once and for all. But for now, while she's locked into the series for the time being, Sofia is working overtime to make sure she's still sexy -- she doesn't want to age herself out of movie stardom while she's still on the TV show," the source revealed to Radar.
According to the insider, Vergara has a powerful advocate in her friend, famed producer Harvey Weinstein, who "has been whispering in her ear for the last 18 months that he's ready to make her a real movie star."
But before she's even booked her Oscar-worthy roles, Vergara is fearful that she is starting to age, and is worried that could have an impact on her career.
"Sofia is now over 40 and is massively self-conscious about her age," the source told Radar.
"She's become so obsessed with her appearance on Modern Family that she'll often arrive on set earlier than anyone -- as much as two hours ahead of schedule -- in order to overwork the makeup hair and wardrobe people trying out various looks."
Article continues below advertisement
The curvy Colombian-born dynamo, who makes America laugh every week as Gloria Delgado-Pritchett on Modern Family, has not made a major impact in movies. She's appeared in director Tyler Perry'sMeet the Browns and Madea Goes to Jail and has had bit parts in The Smurfs, The Three Stooges, and Escape From Planet Earth.
In 2011, Vergara was supposed to star in the independent movie drama The Paperboy, but had to drop out after the filming schedule conflicted with her duties on Modern Family. Nicole Kidman ultimately snagged the part and was nominated for a Golden Globe for her role.
According to the source, Vergara, known for tweeting sexy pictures of her va-va-voom body, "believes her success on the show, and her potential success in films, is based on her looks which is why she's completely focused on looking like a magazine cover every chance she gets."