Exclusive
Celebrity Justice? Manhattan District Attorney Accused Of Favors In 'Avatar' Star Sam Worthington-Paparazzo Smackdown Case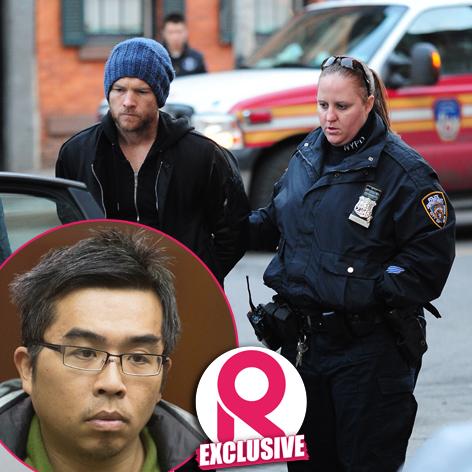 "Mihas is a star-struck fan!"
That's what lawyer Mark Jay Heller is saying about the Assistant District Attorney in Manhattan heading up the Sam Worthington assault case in which the Avatar actor allegedly beat up a paparazzo, and RadarOnline.com has all the exclusive details.
Representing paparazzo Sheng Li, Heller claims that ADA Atalanta Mihas has been favoring the hunky actor and alleges Worthington has been receiving preferential treatment due to his celebrity status.
Article continues below advertisement
"People are outraged! They don't like paparazzi, but they also don't like favoritism when it comes to these celebrities and their celebrity status," Heller told RadarOnline.com in an exclusive interview.
"In my 45 year career, I have never seen such an inappropriate miscarriage of justice. The Justice Department and New York County grand jury and are going to fully evaluate and investigate what happened and, to the detriment of the assistant district attorney, who failed to enforce justice.
"Without notifying my client Mihas covertly advanced the court date, and afforded him Worthington the disposition… Mihas failed to extend the order of protection, leaving my client for 43 days without any order of protection."
As RadarOnline.com previously reported, Worthington was arrested after a Feb. scuffle in which he allegedly assaulted Li, claiming the photog kicked his girlfriend Lara Bingle.
"I was only protecting my girlfriend," Worthington told the police about the scuffle.
Article continues below advertisement
The next day Li was awarded a temporary restraining order against Worthington, 37, and in March told RadarOnline.com he planned to pursue one against Bingle, 26, too.
"Mihas failed to operate a simple misdemeanor charge. Instead of upgrading it to a felony which is clearly should be, and attempted robbery, which is clearly demonstrated in the video. You can see this guy is beat up brutally. You hear him say, 'Don't touch me,'" Heller says, referring to video of the incident taped by other paparazzi at the scene.
"I believe that my client is going to vigorously pursue this case. Thursday in court, I'm going to ask them to issue a sole ordered material witness subpoena to have Worthington examined in trial, and Bingle should be prosecuted with similar charges.
"Maybe they've tried to get on the good side of Hollywood and the movie industry by treating celebrities more favorably. There's a lot of money to be made."
Article continues below advertisement
Heller continued, "The most interesting thing to me is that Worthington really thought he skated out the back door of the courthouse by having this overt, and in my view, inappropriate disposition, and the minute he got out the back door, he was led right into the court of public opinion."
Among other misconduct on behalf of Mihas, Heller charges that the ADA "communicated independently of the victim and the victim's attorney, with a Detective at the 6th Police Precinct who was considering and evaluating potential criminal charges against Lara Bingle, that if the Detective proceeded to effectuate criminal charges that she the Prosecutor would decline to prosecute and thereby expose the Police Department to civil liability.