Exclusive
Not Going Down Without A Fight! Mel Gibson's Ex Oksana Grigorieva Urges Judge To Overturn Ruling That Forced Her To Pay Back Hundreds Of Thousands Of Dollars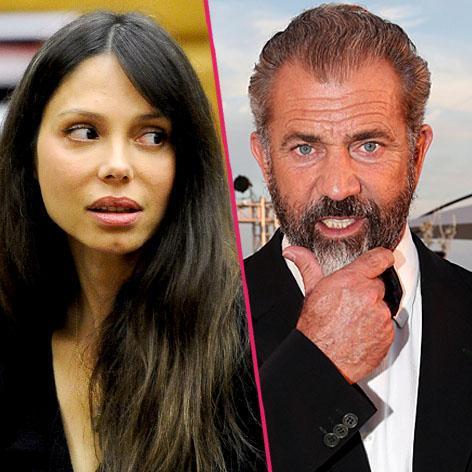 Mel Gibson's baby mama Oksana Grigorieva is hoping to get a last minute reprieve from a California Appeals Court after a judge ruled she had violated terms of a confidentiality agreement with Gibson, costing her half of her six-figure settlement, RadarOnline.com is exclusively reporting.
As we revealed in February the cash strapped songstress, filed for Chapter 13 bankruptcy just days before she was forced to pay back $375,000 of the $750,000 settlement after she blabbed about her ex for two minutes during an interview on shock jock Howard Stern's radio program.
Article continues below advertisement
According to Grigorieva's amended bankruptcy petition obtained by RadarOnline.com, she lists under personal property, "Pending Appeal in the California Court Of Appeal Grigorieva v. Gibson...Appeal of Family Law Order Denying Restitution Value Unknown."
Gibson went back to court and demanded the final settlement payment be voided after Grigorieva appeared on Stern's show. Earlier this year, the Russian singer appealed the judge's decision, and lost in the California Appeals Court. On April 24, Gibson filed a motion to have the appeal dismissed, and was granted.
However, Grigorieva has been given another hearing, and Gibson will have seven days to respond to her latest petition.
Grigorieva turned down a massive settlement from Gibson in 2010, as much as $15 million, stemming from our explosive 2010 reports of the Lethal Weapon star threatening to kill her and even punching her in the face.
It's been a tough year for the struggling single mom, after the son she had with 007 actor, Timothy Dalton was embroiled in a police investigation.
RadarOnline.com has chosen not to disclose the allegations or details of the incident as Alexander Dalton is a juvenile.
But a source revealed: "Oksana is terrified that Mel is going to go to court and ask Judge Scott Gordon to give him sole custody of their daughter, Lucia, because of a recent incident. Oksana thinks Mel will try and use this to show the judge that she is an unfit mother."
Stay tuned to RadarOnline.com for further developments!