Exclusive
Strippers, Threesomes & A Love Child? New York Giants Draft Pick Odell Beckham's Fiancée Tells All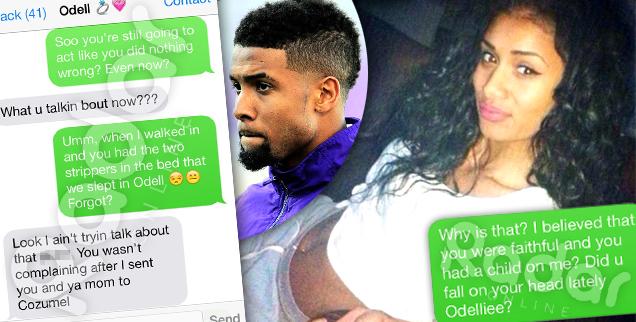 UPDATE: New York Giants rookie Odell Beckham claimed Tuesday that he's been the victim of a hoax involving a woman who protested she was his fiancée. Now,RadarOnline.com has learned he has asked the NFL to investigate the woman making the claims.
"The organization has contacted NFL security to look into finding the person responsible," a NY Giants spokesman told RadarOnline.com, adding that they would "help investigate the matter" on Beckham's behalf.
Article continues below advertisement
In addition, Beckham's father Odell Beckham Sr. stated that the family hired a private investigator to research the matter independently.
"He wants to find out who this woman is," the footballer's dad claimed. "He's concerned. He put it in the hands of investigators."
Beckham insists he has never met the woman who has claimed to have been in a relationship with him for more than three years.
"The entire story is fabricated," Beckham told RadarOnline.com. "I have never been engaged. I don't have any children. And I have never met this person who is making these claims."
Article continues below advertisement
The beautiful model, who met Beckham when she was 17, said the pair began dating in November 2010 – and she quickly got caught up in the whirlwind romance.
READ: Text Messages Between New York Giants Draft Pick Odell Beckham & His Fiancée
"He swept me off my feet at first. I had come from a broken home and was looking for stability. He treated me like a queen," Mendez gushed about the "honeymoon phase" of their relationship.
Flying her around the world to Paris and London and showering her with gifts – including a new BMW – Beckham appeared to be "the perfect man," she recalled. But her rags to riches story came to an abrupt halt when she learned the playboy had allegedly fathered a child – with another woman!
"We fought about the child, but he claimed he was a changed man. I wanted so badly to believe him, so I stuck around," she admitted.
Article continues below advertisement
"I honestly didn't have the resources to leave him, even though I knew I was in a bad relationship," she confessed, adding that she decided to stick around for two more years – never once meeting her beau's baby girl.
But less than a month later, the gossip and mysterious texts started – all alleging he was two-timing Mendez.
"I didn't want to believe it," she said.
She turned a blind eye when she found out she was pregnant with Beckham's baby in February 2013. Sadly, the stress and anxiety of his alleged infidelity weighed heavily on her – and she suffered a miscarriage.
Despite the heartache, the couple "grew closer together," she claims, and Beckham finally proposed to her.
"He promised to change and that he wanted to spend the rest of his life with me. Too bad it was all just lies," she ranted.
A few months after the romantic proposal, she allegedly walked in on him – and two strippers – in a sexually compromising position at his parents' New Orleans home.
"There were glasses thrown. It was quite a commotion," she said of the Aug. 2013 incident. "That was the final straw." The couple split soon after.
But despite the drama, today, they're trying to make it work: The pair reunited in late February and the engagement is back on after a four-month separation.
Now, Mendez claims she plans to wed the 21-year-old footballer in March 2015.
"We love each other," she said. "Everybody makes mistakes. He has promised he has changed. I have faith in him."