Madeline McCann's Parents Hold Out Hope On Anniversary Of Child's Disappearance, But Say The 'Limbo Of Not Knowing Is Horrible For All Our Family'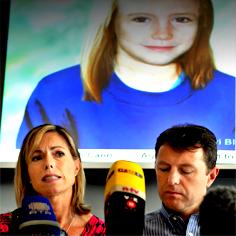 Madeleine McCann's parents Kate and Gerry said they will never give up in the search for their long lost daughter as her May 3, 2007 disappearance will hit its' sad seventh anniversary Saturday.
"I don't think any parent would," Kate said appearing on Lorraine, a UK-based talk show, Thursday. "If we haven't found Madeleine or we haven't found what happened then we haven't done enough.
"There is still work to be done."
Article continues below advertisement
As RadarOnline.com has reported, the investigation has taken a number of unpredictable twists, turns and swerves, most notably a lead regarding three men that subsequently died on the vine. Further inefficiencies in the investigation have been brought about by a jagged working relationship between officials in Portugal, where the child was last seen; and England, where the family calls home.
Despite the numerous roadblocks and stutter-steps, the child's father Gerry McCann remained optimistic as the miserable milestone approaches.
"People breaking into apartments are potentially linked," Gerry said on the program. "We know for the families that can be really difficult for the children that have been traumatized and many of these cases are going back years so we'd really like to thank them."
"It's really building up a picture of what was going on in and around Prai de Luz immediately preceding and after Madeleine being taken and so we are really encouraged by it."
Article continues below advertisement
The parents conceded that despite the pangs of hope, ultimately, the "limbo of not knowing is horrible for all our family."
Madeleine, who would be 10-years-old right now, has two siblings: 9-year-old twins Sean and Amelie.
Patriarch Gerry said, "I think for us, our life is defined by pre- and post- the abduction, so it's very much we were a family-of-five, and now we're functioning as a family-of-four."