Madeline McCann Kidnapping: Scotland Yard Eyeing Thieving Child Molester Tied To Repeat Offenses In Portugal Prior To Child's Disappearance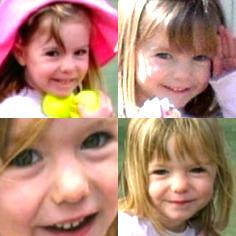 Scotland Yard's latest lead in the ongoing case of missing 3-year-old Madeleine McCann centers around a criminal-at-large tied to a rash of thefts and child rapes in the area in the years prior to the 2007 kidnapping.
The person in question is a local to the Portuguese area implicated in a rash of robberies, Detective Chief Inspector Andy Redwood told ABC News, while Scotland Yard said the man "sexually assaulted five white girls, aged between 7 and 10 years, whilst in their beds," in one instance, "two girls in the same villa."
Article continues below advertisement
Redwood said, "We know that the man has got these very, very unhealthy interests, and that these girls were on" vacation, and that "we're sure the public will understand that there are significant features there."
The person "gained access to mainly holiday villas occupied by U.K. families on holiday" in incidents in the three years leading up to McCann's disappearance, according to Redwood.
The man, who spoke with a muddled English accent, sported a tan, short dark hair and a pot belly, officials said. The "sometimes-bare chested" man had been seen wearing a burgundy-colored long sleeved shirt with a white circle on it, and "three victims said that he had a noticeable odor."
Scotland Yard said their key priority with the new lead is to "establish the identity of this man", "eliminate this man from our inquiries," and "ascertain whether these offenses are linked to Madeleine's disappearance."
Watch the video on RadarOnline.com
ABC US News | ABC Business News
It's the first we've heard in the case in a month, as the last lead in the case revolved around a woman's claim of a jarring 2007 run-in with "Gypsies" who she said attempted to kidnap her daughter.