'He's The Best Dad Already!': LeAnn Rimes Enthusiastic About Prospects Of Having Kids With Eddie Cibrian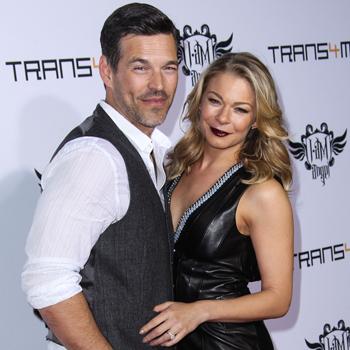 LeAnn Rimes was boisterous when asked if she'd consider having children with husband Eddie Cibrian to go along with her stepsons, Mason and Jake.
The country crooner, asked by US if she'd be open to having children with The Playboy Club hunk, replied, "Oh yeah! Sure!
"He's the best Dad already," the "How Do I Live" singer said of her hubby of two years. "I have a little bit of experience with the kids now so, I feel like I wouldn't be too crazed.
Article continues below advertisement
Cibrian, 40, hyped it up saying, "You can expect a lot of drinking and a lot of fights and we throw a lot of sh*t at each other and it's a debacle. It's horrible."
The 31-year-old Rimes, saying her's is "like every other reality show," explains how her show with Cibrian a lot of heart to it but there's also a lot of laughs.
"Eddie and I are very much that way in our relationship. We have a lot of humor between the two of us and give each other s--- a lot, so you see that."