LeAnn Rimes FURIOUS Brandi Glanville Didn't Immediately Notify Eddie Cibrian That Son Mason Had Been Rushed To The Hospital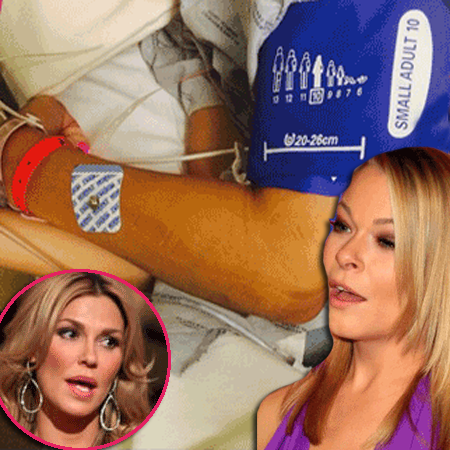 LeAnn Rimes is understandably angry that Brandi Glanville didn't immediately let Eddie Cibrian know that his son, Mason, had been rushed to the hospital in New York.
"My husband need (sic) to be notified. Period," LeAnn said Sunday afternoon.
Cibrian and Rimes didn't learn the details of Mason's medical emergency until the 10-year-old was able to call his dad himself, and that was apparently hours after he'd been in the emergency room at a New York City hospital.
Article continues below advertisement
As RadarOnline.com ​was first to report, Mason was rushed by ambulance to the hospital and spent eight hours in the ER.
His The Real Housewives of Beverly Hills star mom had taken Mason and her younger son, Jake Cibrian, with her to the Big Apple where she was making promotional appearances.
But shockingly, she wasn't the first to let her ex, Eddie, know when Mason had his emergency.
Cibrian and Rimes first heard from a friend that something was going on with Mason and it was hours later before they were able to get in contact with the boy!
"Got a text from a friend at 4:30am asking if mason was ok. THANK GOD! Mason just called Eddie himself!! It's been a panicked morning not knowing anything and mason being all the way across the US. Relived to know he's ok.," Rimes told her followers.
Fortunately, Mason is on the mend. "He is doing a lot better and all will be fine," Glanville wrote Sunday afternoon.
But the irony of what's gone down between Mason's mom and stepmom isn't lost on avid followers of these two.
Article continues below advertisement
Glanville previously called out Rimes for not notifying her quickly enough when a then seven-year-old Mason became ill after allegedly ingesting a laxative while staying with Rimes and Cibrian.
And in 2010, she went off on Rimes and Cibrian in an interview with E! News, saying
"All I know is I didn't get a phone call," she said of an incident when Mason ended up in the ER because of a fall. "Poor choice. Bad parenting. I don't know how exactly it happened, but Mason told me LeAnn had oil on her hardwood floors and he fell. Eddie didn't bother to call me and I showed up to Mason's soccer game that day only to get a text from Eddie afterwards saying Mason wouldn't be playing since he was in the ER all morning."​
So was Glanville just trying to get even by not letting Cibrian and Rimes know about Mason hospitalization sooner?
Tell us what you think in Comments.