Bad Boss? L.A. Reid Sued Over Claims He Stiffed Employee Overtime Pay — And Then Fired Her When She Was Seven Months Pregnant!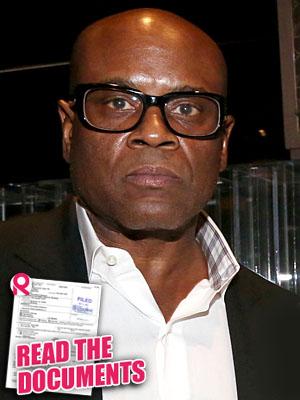 Is Antonio M. "L.A." Reid the latest addition to the list of horrible Hollywood bosses? RadarOnline.com has learned the one-time X Factor judge, 57, is being sued by a former female employee who claims the music mogul not only failed to pay her overtime, but also fired her while she was seven months pregnant!
Shola Smith-Kirnon, a former employee of MyMuze Inc. and Thntck, LLC, is also going after Darrin Jennings, the CEO of both MyMuze and Thntck. While employed by MyMuze, Smith-Kirnon performed administrative tasks such as making appointments, answering phones, drafting correspondence, etc., according to court documents obtained by RadarOnline.com.
Article continues below advertisement
Although she was considered an employee as "defined by applicable federal and state law," Smith-Kirnon alleges in the court documents that she didn't receive any compensation from September 2009-October 2011 aside from "some meals" and "nominal payments" for commutation.
READ Shola Smith-Kirnon's Claims Against Music Mogul L.A. Reid
After October 2011, she says she started to receive payments of $2,000 per month via wire transfer, but was never asked to fill out any tax forms or other legal paperwork. Both Reid and Jennings neither maintained records of Smith-Kirnon's time in and out each day nor did they provide her with forms indicating her regular rate and overtime pay.
In May 2012 Smith-Kirnon was "informally transitioned" to Thntck where she continued to receive her monthly compensation, but claims she was never paid any overtime even though she worked more than 40 hours each week.
But the situation allegedly took a weird turn when Takia Jennings, Jennings' wife and fellow Thntck employee, told Smith-Kirnon that she would "no longer function in her previous capacity" when she was seven months pregnant in May 2013, the court documents claim. The wife, however, allegedly had a different job in mind for her — being the nanny for their daughter.
Smith-Kirnon refused and she was terminated on or about May 15, 2013.
She is suing L.A. Reid for unpaid wages, overtime and pregnancy-related gender discrimination.
Stay tuned to RadarOnline.com for the latest in the suit.