Here We Go Again! Sharon Stone Being Sued By ANOTHER Former Employee — Claims She Called Her 'Crazy & Stupid!'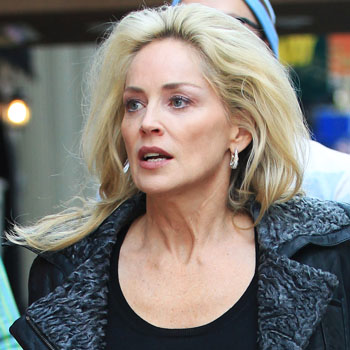 UPDATE: Stone's attorney has denied Castillo's claims, calling the lawsuit "bizarre and ridiculous."
"The wrongful termination lawsuit that Angelica Castillo filed against Sharon Stone is bizarre and ridiculous," they said in a statement released Tuesday. "Ms. Castillo was never fired, and as of today is still covered by health insurance as an employee of Ms. Stone. Her claim that she was supposedly wrongfully terminated is absurd, just like the rest of the lawsuit's fabricated and baseless allegations. Ironically, recently there was a partial denial of some of her worker's compensation claim and instead of appealing, Ms. Castillo filed a malicious false claim. We are confident that Ms. Stone will prevail in this meritless case, and once that occurs, she intends to pursue affirmative claims for malicious prosecution against those responsible for filing and prosecuting this specious lawsuit."
Article continues below advertisement
DOCUMENTS: Sharon Stone Gets Hit With Another Lawsuit From A Former Employee
Castillo says she began working for the Basic Instinct star in 2010 and that in June 2012, she injured her back while loading groceries into her car during a trip to the grocery store for Stone.
The documents state that the maid's doctor ordered her to "undertake a brief period of bed rest," but that "Stone denied Castillo's request for a brief period of bed rest, and told her that she would have to come in to work that day."
MORE ON:
Celebrity Justice
Article continues below advertisement
Then, Castillo claims that after she complained to Stone that she was still suffering considerable pain four months later, the actress called her "crazy and stupid."
To top it off, Stone then fired her on Oct. 1, 2012.
Castillo is seeking unspecified damages.
As RadarOnline.com exclusively reported last May, Stone's former Filipino nanny also filed a lawsuit against her for labor violations and allegedly making derogatory statements about her ethnicity.
Erlinda Elemen claims she began working for Stone as an assistant nanny to take care of one of the actress's three children, but got promoted to lead nanny in 2008. The former nanny says she moved into Stone's house in 2008 and began traveling extensively with the actress and the children until she was terminated in 2011.
In February 2011, Elemen filed a complaint with the California Department of Fair Employment and Housing, alleging among other things, harassment, failure to prevent harassment and retaliation.