Taking Charge: Tori Spelling Fires Sexy Nanny So Husband Dean McDermott Can't Cheat!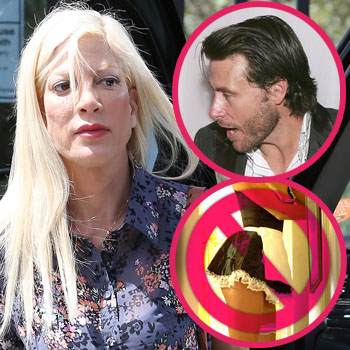 Tori Spelling isn't taking any more chances on her marriage.
According to the National ENQUIRER, the mother of four, 40, has fired one of her longtime nannies— simply for being too sexy to be around the reality star's cheating husband, Dean McDermott, 47.
"The nanny is single, attractive, and twenty-something," a family insider told the ENQUIRER.
"Tori simply didn't trust Dean around her. Her firing had nothing to do with anything she did. She's absolutely blameless and was a terrific nanny to Tori's kids."
Article continues below advertisement
Sadly, it's the children— Liam, 7, Stella, 5, Hattie, 2, and Finn, 19 months— who lose out.
"The kids ask about her every day," the source says. "They're heartbroken."
According to the magazine, the beautiful blond nanny first met the family in 2011 at a children's shoe store. She spent that summer in Ontario, Canada watching the kids while Spelling and McDermott filmed their HGTV series Tori & Dean: Cabin Fever.
"She was also a friend to Tori and a shoulder to cry on," explains the insider, adding that the two pals even took road trips together. "They even joked they were like 'Thelma and Louise'!"
But the former Beverly Hills, 90210 star is willing to go to any lengths to keep her sex-crazed husband away from gorgeous women.
"Firing the nanny isn't what Tori wanted to do, but she felt she had no choice," the source says. "She'll never hire an attractive woman to work in her home again."