Exclusive
Kim's Wedding Katastrophe! Kardashian Panics As Air Traffic Controller Strike Grounds Private Jets Meant To Fly Guests To Wedding  — 'It Feels Jinxed!'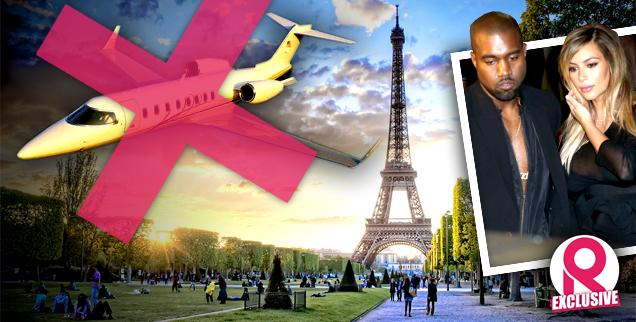 Yeezus! An international crisis is threatening to ruin the Kimye wedding!
As Kim Kardashian and Kanye West get ready to host their European wedding extravaganza, RadarOnline.com has exclusively learned that the planning might come to a complete halt and the bride is crying that her "wedding feels jinxed!"
Guests are expected to descend upon Paris with their designer duds packed for a wedding like no other, compliments of the bride and groom, but their perfectly planned nuptials may have been wrecked thanks to the French air traffic controllers who have gone on strike, impacting all flights in and out of the country.
Article continues below advertisement
"Kim and Kanye have been told their private planes full of guests get last priority in and out of Charles De Gaulle and Orly airports," a source close to the situation told Radar.
The happy couple had planned to have the rehearsal dinner in the City of Lights, and then take all of the guests via private planes to Florence, Italy, but the strike may destroy their perfectly laid plans.
Sending the 33-year-old bride into a major panic attack, the wedding planners are scrambling to pull together Plan B.
"They are now looking into renting rail cars to get guests to Florence from Paris," the source told Radar, but as a backup, "They do have a site in Paris also available to hold the wedding."
Reports are now claiming that the wedding venue location has been switched to the Palace of Versailles.
With the bad news wrecking the wedding plans, Bridezilla is rearing her perfectly coiffed head.
"Kim is very stressed out about it and can't understand why private air travel is being impacted," the source told Radar.
Even though she's preparing to celebrate her love for her 36-year-old fiancé and father to her daughter North West, Kardashian has broken down with worry about her third wedding.
The source close to the bride said Kardashian is crying her "wedding feels jinxed!"
What should Kim and Kanye do? Tell us in comments!