Exclusive
Cutting Corners & Conserving Cash: Kim Kardashian Bringing Guests To Wedding Using Her Frequent Flyer Miles!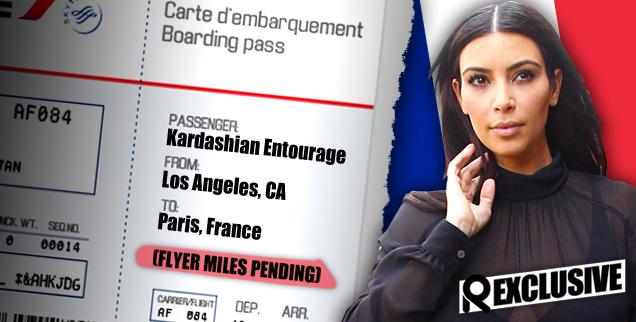 Oh, the shame!
While she stands to make a staggering $21 million on her wedding to Kanye West, RadarOnline.com has exclusively learned Kim Kardashian is cutting corners wherever she can to save a penny and will be bringing her entourage to their wedding using her frequent flyer miles!
According to an insider, Kardashian made travel arrangements for her entourage and while they're thankful to be headed to Europe, they were shocked to learn she wasn't even paying for it.
Article continues below advertisement
"Kim is so cheap that she is using her frequent flyer miles to fly her entourage to and from the wedding," the source told RadarOnline.com.
"She is not paying for any of their transportation and is she is putting them up in a crappy hotel. They are not getting any money from her for their services, nor are they getting any special treatment."
The source tells RadarOnline.com her entourage (stylists, hair and makeup artists, etc) are hurt by the Keeping Up With The Kardashians star's decision to treat them like second-class citizens and some don't even want to attend the nuptials anymore.
MORE ON:
Keeping Up With the Kardashians
"All they're getting is a coach flight that Kim is getting for free with her miles and a cheap hotel. Kim's not giving anything to these people who feel like they've done so much for her," the source said.
"Some of them have said they don't even want to go to the wedding anymore."
And while Kardashian, 33, is generously footing the bill (sort of) for their flights to the wedding, the source said the buck stops there.
"Kim's not helping with transportation to or from the airport or anything," the source added.
"It's just leaving a really sour taste in the entourage's mouth given what Kim is worth and the fact that she'll actually be making money on this wedding."
Do you think it's in poor taste for Kim to use frequent flyer miles on her guests? Sound off in the comments below…