Kim & Kanye Take Over Paris As Secrets Of Their 'Big Fat Florentine' Wedding Are Revealed: The Guest List, The Dress, The Drastic Diet And A Swimming Pool Dyed Pink!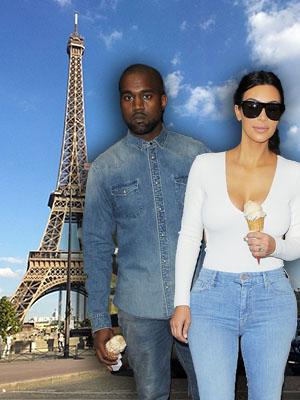 Kim Kardashian and Kanye West gallivanted in Paris Sunday as wedding planners were in the final stages of planning one of the most anticipated celebrity nuptials ever, down to each well-heeled detail.
High profile guests tabbed to be in attendance as Kimye seal their love include the entire Kardashian clan, and two other newsmakers as of late, Jay-Z and Beyoncé.
The Vogue covergirl will make a "huge, chic fashion statement" in her Vera Wang gown, sources said, after months of grueling diet and exercise to be in the best possible shape on the day of her third wedding. The socialite recently showed off her svelte form in an Instagram pic, boasting a chiseled set of abs.
Article continues below advertisement
The couple has held their cards close to the vest, in part to thwart the excessive media attention devoted to the affair, as even those invited haven't been given any concrete details as to where or when the "Gone" singer and Kardashian will actually be pronounced man and wife.
Sources said invites have only been directed to the Chateau Louis XIV, a Parisian palace with modern amenities, one of which will be — at the Yeezus rapper's request — a pool filled with pink water. With a major sewage facility not too far from the venue, the couple will have strong air freshening system installed for the big day.
"They have gone to great lengths to make sure the place smells lovely," a worker at the facility said.
The mega-stars will indeed exchange vows in Florence, Italy as well, as the city holds special relevance to them, as it was where they conceived their daughter North. That said, authorities in Italy said no formal plans have been made in regards to a civil contract required for legally-binding weddings, essentially meaning that whatever event is held in the area will be strictly for show, at least under local jurisdiction.
Officials there said they've granted permission for West, 36, and Kardashian, 33, to host 200 guests at a 16th-century fortress in Fort Belvedere, and that the couple is expected to bring an American Protestant minister to the proceedings.
West proposed to Kardashian in grand fashion last autumn, proposing to her at San Francisco's AT&T Park on her 33rd birthday.