Exclusive
Julia Roberts Mourns Sister's Horrifying Suicide As Her Mother Moves In With Her: 'They're 'Clinging To Each Other Like They're Shipwrecked On An Island'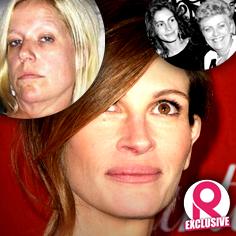 Julia Roberts' mother Betty Lou Motes is now living with her daughter and her family in Malibu and the pair "are clinging to each other like they're shipwrecked on an island" after the horror of the star's sister Nancy Motes' death, RadarOnline.com has been told.
As we previously reported, months of feuding between Roberts, 46, and her estranged sister Nancy, 37, came to an end with Motes' reported suicide by drug overdose in February. Motes' long suicide note blamed Roberts for alleged mistreatment.
Article continues below advertisement
At a May memorial in their hometown of Smyrna, Georgia, Roberts reportedly got the last word.
Instead of peacefully burying the hatchet with her dead sibling, RadarOnline.com learned that Roberts instead launched a "harsh" and "bizarre" eulogy.
Still, the Pretty Woman star remains closer than ever to her mom Betty Lou, who has moved into Roberts' Malibu compound with husband Danny Moder and their three kids, twins Hazel and Phinnaeus and son Henry, 6. And although the Georgia woman, 79, has been diagnosed with lung cancer, she's been giving everyone her tender loving care, said the source.
"Betty and Julia have an extremely close relationship and Betty's been embraced wholeheartedly into the family. The children adore her as she insists on picking them up from school every single day."
And unlike her August: Osage County's character's bad relationship with her mother, Roberts can't stop Motes from doting on her after their family tragedy.
"Julia's trying to get Betty to relax and focus on her health, but that's not her style," the source said. "Julia's even come home and found her mother had done the family laundry and even collected her dry cleaning! She can't stop her though – Betty's one of those old-school types who'll never sit back and slow down."