Exclusive
Case Dismissed! Judge Drops Bizarre Lawsuit Against Anna Wintour and 'Vogue'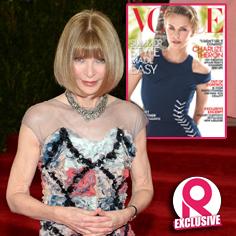 Anna Wintour always gets her way! On May 14, Vogue's editor-in-chief could breathe a sigh of relief when a New York district court tossed local lawyer Gerard Corsini's wacky lawsuit against major NYC heavyweights, including former mayor Michael Bloomberg, police commissioner Ray Kelly, and Wintour and her famous Condé Nast publication.
In 2012, Corsini filed documents claiming the defendants conspired to "deprive him of rights. . .including in retaliation for the exercise of his clearly established First Amendment rights to speak about and document through public photography public commercial activities," court papers state.
Article continues below advertisement
Read All The Crazy Claims In This Lawsuit
The lawyer specifically called out Kim Kardashian's well-heeled pal for the alleged actions of unnamed Vogue employees, whom he claims called him names during a 2011 photo shoot with Sarah Jessica Parker, at the Chelsea home of Corsini's socialite neighbor Betsy Morgan. (Corsini was arrested five times for harassing Morgan, who often held film, TV, and photo shoots in her luxury townhouse, which he deemed to be disruptive.)
Though Wintour preciously requested to be removed from the lawsuit earlier this month, the judge ultimately decided to dismiss the case altogether.
Corsini "has failed to offer sufficient factual allegations to plead plausibly any type of conspiracy among the wide array of defendants," new court documents state.
The plaintiff was also ordered to pay the defendants' legal fees and costs.