Unfashionable Lawsuit! Anna Wintour Tells New York Lawyer: 'I Didn't Conspire To Have You Arrested!'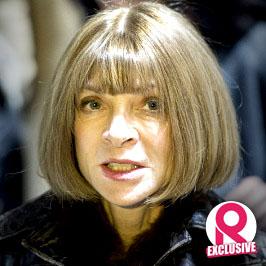 Vogue editor-in-chief Anna Wintour is insisting she had no role in a conspiracy to have a New York man arrested— and wants to be dismissed as a defendant in the bizarre lawsuit.
In 2012, lawyer Gerard Corsini alleged a wide-variety of NYC-based people and institutions— including then-mayor Michael Bloomberg, police commissioner Ray Kelly, Wintour and Vogue publishers Conde Nast — conspired to "deprive him of rights…including in retaliation for the exercise of his clearly established First Amendment rights to speak about and document through public photography public commercial activities," court documents state.
Article continues below advertisement
Corsini was previously arrested five times for harassing his socialite neighbor, Betsy Morgan, after she rented out her home in New York's Chelsea neighborhood to film, TV and photo shoots.
The plaintiff claimed that Vogue employees called him names during a June 2011 photo shoot at Morgan's home with Wintour's friend Sarah Jessica Parker, and that when he called Conde Nast to complain, Wintour and her representatives failed to call him back. He sought $20 million in damages from Wintour and the publishers.
But Kim Kardashian's new pal states that other than failure to return a phone call, Corsini doesn't actually have any specific allegations against her— and accuses the lawsuit in general to be baseless.
"The court is not required to accept as true those allegations which are 'fanciful,' 'fantastic' or 'delusional,'" Wintour's representatives write in court documents.
In response to the allegations against the magazine's employees, she says that Conde Nast is "not liable for unnamed peoples' actions," documents add.
The editor is asking to be dismissed from the lawsuit altogether.