Exclusive
Carrie Bradshaw To Run 'Vogue'? Anna Wintour's Scheme To Make Fashionista Friend Sarah Jessica Parker Her Successor Has Co-Workers Shaking In Their Manolos!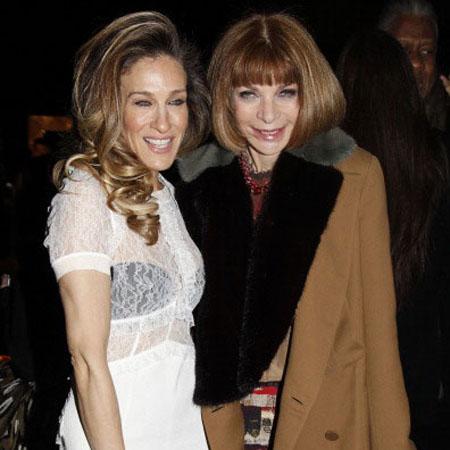 Anna Wintour has thrown her Vogue co-workers into a panic by hinting her fashionista friend, former Sex and the City star Sarah Jessica Parker, could take on a wider role at the magazine, RadarOnline.com has learned.
According to a very high-level publishing source, "Anna is worrying colleagues who believe she has found her true successor in Sarah!"
"It's a surprising idea, but one that is not entirely a joke. Anna thinks Sarah, a fashion icon on Sex and the City, truly has what it takes to step into her shoes and take on a role at Vogue one day.
Article continues below advertisement
Joked the source, "After all, she already played a writer, Carrie Bradshaw -- and has the manolo blahniks!"
Also Parker, known for her high-priced footwear on Sex and the City, just launched her own shoe line!
The legendary Vogue editor, 64, and Parker, 48, now have regular private lunches and "Sarah has been consulted on a stunning array of Vogue's big moves over the last several months."
"She has totally entered the inner circle," the source revealed.
Not only do the two women share the same fashion sense, they're both politically on the same page: Wintour hosted a fundraiser for President Barack Obama at Parker's home last year.
Although Wintour has made no announcements about when she might retire, her scheme to put Parker in the Vogue pipeline has co-workers shaking in their own designer shoes, the insider added.
Among those threatened by the unexpected rise of SJP is Robbie Myers, the star editor of Elle whom many have expected to eventually take the top job at Vogue, still considered the most powerful post in the fashion world.
Meanwhile, the source said Parker, who is raising three kids with husband Matthew Broderick, would be thrilled to be considered for a role at Vogue.
The source said, "Sarah is playing this like she is serious and she wants it -- she is doing her homework and learning the business like never before.
"It's the fashion equivalent of running for president or getting nominated to the Supreme Court and Sarah is treating it that way!"