Step-By-Step: SHAPE Covergirl Jenny McCarthy Dishes Details Of Her Engagement TO NKOTB Singer Donnie Wahlberg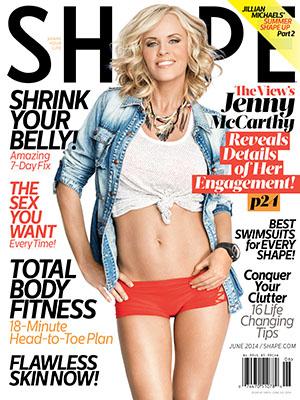 Jenny McCarthy, speaking with Shape about her romance with Donnie Wahlberg, said her Boston-born fiancé's street hood image was a bit sting for her — at the time.
"The very first time I saw him, I was in eighth grade and New Kids on the Block was on MTV. I was like, 'Who are they?'" the former Playboy Playmate recalled. "I thought Donnie was the hottest one but too tough for me, because I was this goody two-shoes.
Article continues below advertisement
"But now when I look at him, I think, 'I'm totally marrying a New Kid on the Block.'"
The 41-year-old beauty, who says her 10-minute-a-day exercises help keep her abs rippling — as seen on the cover of the issue — reviewed the romantic course of events leading to her engagement to Donnie, who had a helping had from her 11-year-old son Evan.
"His proposal was so sweet: One afternoon, my son walked into the living room with a piece of paper that read, 'Will.' He ran out, then he came back with another piece that said, 'You.' Then he came back with another piece that read, 'Marry.' Then Donnie walked in wearing a t-shirt that said, 'Me?'
"He was carrying the ring, he got down on his knee in front of Evan, and … I said yes," The View starlet recalled of the romantic crescendo, which began last year in the time she was hosting a show on VH1.
For more with the
stunning Chicago native
, pick up the June issue of
SHAPE
, on newsstands now!