Exclusive
Must Be Nice! Jennifer Aniston Builds A $60K Drive-In Closet -- PLUS Her Other Over-The-Top Dream Home Renovations Revealed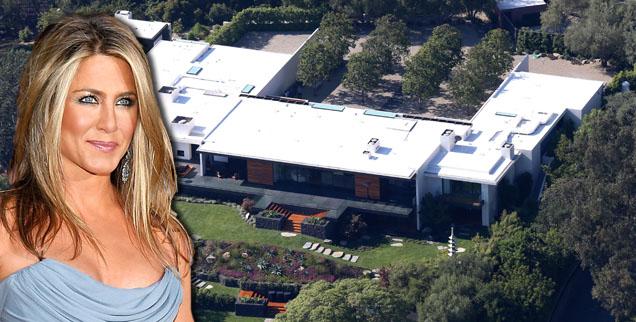 Walk-in closets are so last season. RadarOnline.com has learned that fashion icon Jennifer Aniston is about to set fashionistas scrambling with her latest style innovation: a $60,000 drive-in closet!
Aniston is in the midst of renovating her 8,500 square foot Bel Air mansion, and seems to have found it is simply not big enough to house all of her designer duds: According to recent permits filed with the Los Angeles Building & Safety Department, the former Friends star plans on converting her garage to a massive walk-in wardrobe.
Article continues below advertisement
The documents reveal that the 45-year-old's new boudoir is more like a Barney's boutique than a closet, with 24-feet by 36-feet of runway-worthy space, at a cost of $60,000.
And that's not all!
To glam it up the former car park, Aniston is adding a skylight and a powder room to give the new addition some natural light when she's getting primped and fitted.
The drive-in walk-in is just the latest in the multi-million revamp of the manse, where even the chickens got upgraded digs.
Aniston and fiancé Justin Theroux also recently remodeled their master bedroom to add 7-feet by 12-feet of extra room, added a 6-foot by 20-foot balcony, renovated the concrete staircase with water features made of lava veneer and glass railings, added living quarters to a guard house, and remodeled the kitchen and pool house.
The impressive estate also comes with a private vineyard, pool, landscaped gardens, high-tech indoor gym, library, gourmet kitchen, butler's kitchen, a dining room and library, and two upstairs guest rooms with a lanai.
Would you want to live in Aniston's dream home? Why or why not? Let us know in the comments!