Exclusive
Jennifer Aniston Wants To Work With Judd Apatow Again--But Not With His Hollywood 'Wife From Hell' Leslie Mann: Source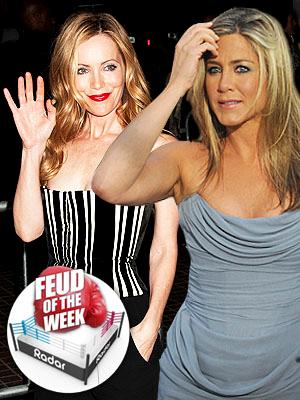 Jennifer Aniston would love to work with Hollywood comedy genius Judd Apatow again, but there's a major stumbling block--she doesn't want his wife Leslie Mann, who appears in all his films, RadarOnline.com has learned.
"Jen longs to star in a comedy with her friend Elizabeth Banks, but a major stumbling block is that Judd might want Leslie to be in the movie, too," a source revealed.
"Leslie is friends with neither Jen nor Elizabeth, and she's infamous among Hollywood circles for not getting along with his leading ladies.
Article continues below advertisement
"She's his wife from hell," the source added.
Mann, 42, has appeared in many of her husband Apatow's films The 40-Year-Old Virgin, Knocked Up, and This Is 40.
However, Mann's latest film, The Other Woman, in which she stars with Cameron Diaz and Kate Upton, isn't an Apatow vehicle.
Even though 45-year-old Aniston's last film produced by Apatow, 2012's Wanderlust, was a flop, the Friends star has fond feelings about it because she met her fiance, actor Justin Theroux, on the set.
"Jen has told her reps to start discussions with Judd, with the the caveat that Jen and her friend Elizabeth will star in one of his upcoming films."
But now, the source added, "Leslie is probably the biggest obstacle to Judd doing a film starring Jen or Elizabeth, for obvious reasons."