Exclusive
Jenna Jameson's Former Assistant Tells All: Snorting Xanax, Boozing & Alleged Violent Plot To Disfigure Ex Tito Ortiz's New Girlfriend's Face With Acid!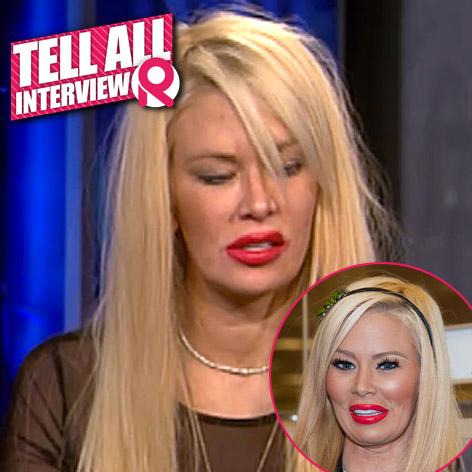 Former porn star Jenna Jameson is allegedly hooked on a plethora of prescription meds and booze, and allegedly plotted to violently throw acid on the face of her ex's new girlfriend to disfigure her.
These are the shocking claims being made by Jameson's former personal assistant, Britney Markham, in an exclusive interview withRadarOnline.com.
On a dangerous downward spiral since the father of her children Tito Ortiz kicked her out of the home last March, Jameson, has been self-medicating with Xanax, Ambien, Suboxone and alcohol, Markham claims.
Article continues below advertisement
"I realized that Jenna didn't want help after I became friends with her again and I let her live with me for a month. It was the most craziest time in my life. I have never seen someone consume so many Xanax and so much alcohol," Markham told RadarOnline.com.
"She would like to snort them and would ask myself or others to do it for her because she was too messed up to do it herself. She was also on Ambien and Suboxone. Her doctor cut her off of any prescriptions because she refused to go in and test."
And last March when Ortiz, 39, started dating UFC ring girl Amber Miller, he kicked Jameson out of their home and ended things for good, which Markham says led her into an even further downward spiral for the former porn star.
"When she was living with me she asked if I knew anyone that had acid so she could hide outside of Tito's house and wait for Amber to come out and throw it on her face!" Markham alleged.
Article continues below advertisement
"She also wanted to mess up Tito's cars, so I texted Tito to let him know ahead of time. Luckily I was her only form of transportation at the time so nothing ever came of it because she couldn't get there."
As RadarOnline.com exclusively revealed last Nov., damning home surveillance footage was released showing Jameson, 40, pulling a wine bottle from behind her bedroom nightstand and chugging from it and popping pills while the children were in her care.
In 2010 Jameson claimed she gave up her porn career to be a mother to her two sons, but she has now lost custody of the boys and Ortiz will get full custody in April.
"She didn't show up to any of the court dates!" Markham claimed.
"What kind of woman would leave her children for drugs and partying and tattoos?"
Heroin Addicts, Coke Fiends & Celebrity Stoners — Hollywood Drug Dealers Tell All!
According to Markham, Jameson eventually got money from a deal for sex toys she made with Fleshlight and used that to move into her own condo at the first of the year.
Article continues below advertisement
"Jenna moved out of my complex across the street and just recently she called my leasing manager and told them I was running a whore house!" Markham told RadarOnline.com.
"My manager told her that no complaints were ever made of that nature and to never call again. Jenna went off and started cussing her out and calling her nasty names."
Markham says being friends with Jameson and letting her live with him was the craziest time of his life.
"She would accuse everyone of stealing, which was never true. She would lose things or leave them places because she would forget because she was on many Xanax or Ambien or drunk," he said.
And finally, Markham claims Jameson is now dating Miller's ex-boyfriend, just to get back at her for dating Ortiz.
"We do not speak to Britney. We don't pay attention to anything he has to say because everything he has to say are lies and false accusations," Jameson's rep, Allen Meme told RadarOnline.com.
"Everything that comes out of his mouth is lies. There are no drug or alcohol issues. Jenna's happy now and that bothers him."