Jenna Jameson: 'I Gave Up Porn For My Sons'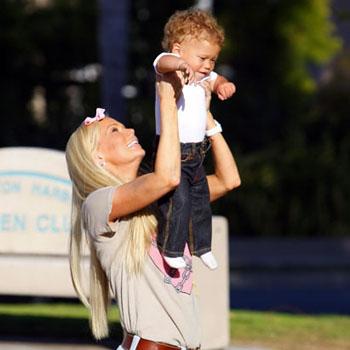 Jenna Jameson, once the world's most successful porn star, says that becoming a mom is what made her give up her lucrative adult film career.
In an interview with the fashion magazine W, Jameson says, "The moment I decided to have children, I quit. I won't even do a Maxim cover."
Jenna is mom to 19-month-old twin boys, Jesse and Journey. Their dad is UFC superstar Tito Ortiz.
Early this year, the couple had an altercation at their home in Huntington Beach, CA. Tito was arrested on suspicion of domestic violence but no charges were ever brought and both later referred to the incident as a "mistake."
Article continues below advertisement
They went through therapy, Jenna previously exclusively revealed to RadarOnline.com, and now have a quiet suburban life with their sons.
Jenna has thought about what she'll eventually tell her sons about her former life.
'I really don't think I need to say, 'Mommy was a porn star'," She told W. "I think like they're going to know me and think, Mommy loved us so much that she quit everything and made us her job."