Exclusive
EXCLUSIVE INTERVIEW: Jenna Jameson Tells How Therapy Saved Romance With Tito Ortiz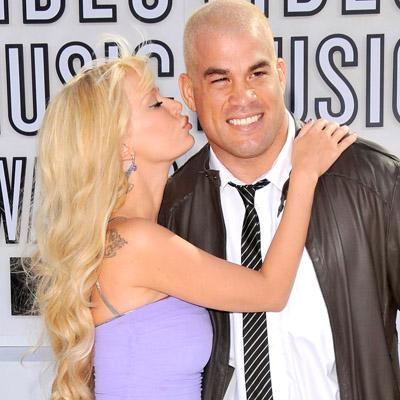 After a tough spring of domestic violence and drug allegations, Jenna Jameson and Tito Ortiz reconciled and have been working since to reunite their family, which includes their young twins.
In an exclusive interview with RadarOnline.com, Jenna opens up about how she and Tito were able to weather the storm and emerge a stronger couple. She also reveals the tough time she is currently going through with the other main man in her life: her father Larry Massoli.
Article continues below advertisement
"We're working through it, we're in therapy, and we're just in love and there's a lot of hiccups when you're in love," she said.
"And I think that we're going to make it through it and we're going to do it with the help of a therapist. We just have to be patient with each other and I think we're going to be okay."
Tito was arrested on April 26 at the couple's home in Huntington Beach, Calif., on suspicion of felony domestic violence after Jenna called authorities complaining that he had threatened her. He later accused her of being addicted to Oxycontin.
"Therapy has been the driving force behind this. All of us as humans need to learn. We're not born with the brainpower to know exactly what the other person is feeling. So it really, really, really helped us and our life is back to normal."
Tito has been by her side in recent days as Jenna's father remains in the hospital following complications after his triple bypass surgery.
"One day he was perfect and the next he was very sick…he's not doing well," Jenna said of the touch and go situation.
Article continues below advertisement
She added in tears, "I had to say my goodbyes Monday…But he made it through the surgery against all odds." Jenna and her family are taking vigil by her father's bedside. "The bottom line is that my father is pretty much everything to me, he's always been there for me.
Regardless of the challenges in the past year, Jenna now realizes what is really important to her in life.
"I learned my lesson that you never act out of anger because I have a real bad temper, I have a terrible temper," she admitted.
"And I should have slowed down, gave it a second, let him walk away and waited and talked to him about things and I didn't," Jenna added about the incident in April that led to Tito's arrest.
"And he Tito didn't and he lost his temper; we both lost our tempers and now we learned that we need to just love each other and give each other time so that's what we're doing. And I'm serious we haven't had a fight since then. We're just so happy, we're really, really happy."
Article continues below advertisement