Leaked Video From INSIDE Jenna Jameson & Tito Ortiz's Home Exposes Porn Star's Boozing, Pill Popping & Violent Rage -- In Front Of Her Kids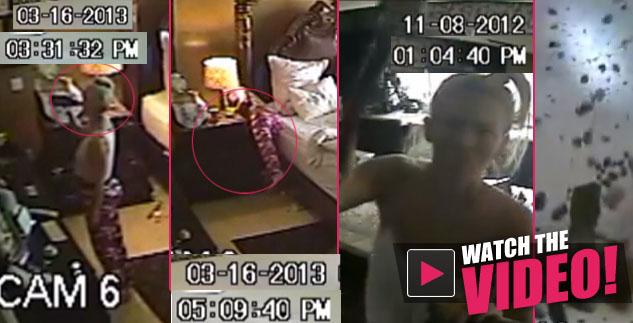 An explosive new video was just leaked online from inside Jenna Jameson and Tito Ortiz's home, showing the porn star allegedly drinking alcohol while her children are around, popping pills and even smashing surveillance cameras in a violent rage — and RadarOnline.com has the video.
The shocking footage — titled "Someone was always watching Jenna Jameson" -- was posted by user Dave Delino and shows clips of Jameson's ex and father of her children, Ortiz, with the children in the kitchen, but it's what the camera catches Jameson doing that is disturbing.
Article continues below advertisement
At the 2:00 mark Jameson appears to pull an entire bottle of wine from the floor at her bedside and drinks straight from it, while her children are in the room.
That clip is dated March 13, 2013.
On March 16, 2013 Jameson again hobbles into her bedroom and drinks from the hidden bottle beside her bed while her 4-year-old twins, Journey and Jesse, play on the computer.
The former porn star also appears to pop pills by her dresser at various points in the footage.
The video is captioned, "Jenna Jameson drinking,taking pills,and smashing cameras. All in front of her boys. These are some of the reason why Tito Ortiz has full custody of those boys."
Later in the clip Jameson is seen at the 6:40 mark climbing up a ladder and smashing the interior surveillance camera in her living room with a hammer, timestamped Nov. 8, 2012.
youtube=https://www.youtube.com/watch?v=hzwRwYj4xe0&w=560&h=315
Article continues below advertisement
Moments later she does the same to the camera in her kitchen, and then seven hours later destroys the one in her bedroom.
Jameson, 39, eventually makes her way around the entire home, smashing all the cameras.
In May 2012 Jameson was arrested and charged with three misdemeanor counts for DUI, driving with a blood-alcohol level more than three times the legal limit, and she was sentenced to three years probation.
Then in April 2013 she was arrested for battery after she assaulted her assistant with a brass knuckle iPhone.
This behavior prompted Ortiz to finally question her ability to take care of their children, and he has had full custody of the boys since the summer.
"She's the mother of my children and I pray and I wish she would get help for herself. I lived with her a long time," Ortiz told FOX411 in October.
"The kids are full time with me. Does she get to see them? She hasn't tried to see them in four and a half months. Now she's ranting and raving that she would do anything to see the kids. She has to pass some tests before she sees them."
RadarOnline.com reached out to Jameson for comment and received no response at the time of publication.