Dangerous Diet? Troubled '16 & Pregnant' Star Danielle Cunningham Boasts About 90 Pound Weight Loss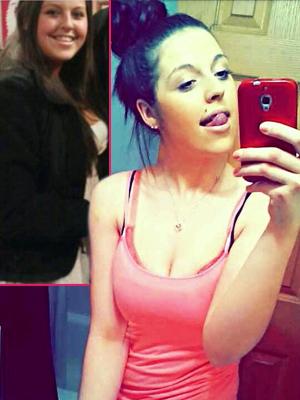 Where did she go?!
Troubled 16 and Pregnant alum Danielle Cunningham showed off her shocking weight loss in a sexy Twitter selfie on May 18.
"90 pounds down!" boasted the Ohio native, 20, looking svelte in a revealing pink tank.
Cunningham— who posted a photo of herself smoking marijuana at home while her two young children slept on May 14— told fans she credits breast feeding after the June 2013 birth of her daughter, Jayleigh Rae, and weight loss drink Visalus for her body transformation.
Article continues below advertisement
"You replace two out of your three daily meals with a shake," she explained to Facebook friends, adding she doesn't work out or shun her favorite foods. "I look better than I did in high school!"
But the star sips more than just her beloved shakes: Cunningham, also a mom to Jamie Paul Jr., 3, (with drug-addled ex Jamie Alderman) once live-tweeted a drinking binge while her kids slept nearby.
New York licensed dietitian Joseph J. Mutz, who has not treated Cunningham, tells RadarOnline.com that the star doesn't seem to be shedding pounds the healthy way.
"The empty calories in alcohol deprive the body of essential nutrients," Mutz says.
And losing such a drastic amount of weight while breastfeeding is not recommended, he adds.
"When calories are drastically restricted, the body responds by producing less breast milk," the expert claims. "Also, the USDA cautions against alcohol consumption while breastfeeding. The high intake of empty calories can greatly effect the quality of breast milk, as well as pass alcohol and its metabolites into the baby."
Article continues below advertisement
As for the Visalus (which Cunningham sells to fans), Mutz stresses that weight loss shakes often fail at providing long-lasting results.
"There is no doubt it could have helped her lose weight, but it did not teach her how to change her eating habits to keep that weight off in the long run," he says. "There is nothing one can ingest to eliminate fat. The only way to do that is through diet and exercise."