Teen Mom War Escalates! Jenelle Evans Hits Back At Danielle Cunningham About Heroin Addiction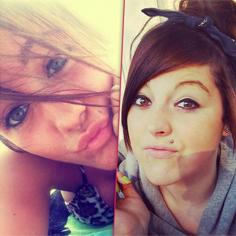 The Teen Mom war between Jenelle Evans and Danielle Cunningham is heating up as each girl tries to one up the other in the name calling, heroin abusing charges game.
The most recent battle between the MTV reality stars started with another tirade launched by Danielle calling Jenelle a bad mom and ripping her drug use.
"Igave her many chances. i used to like her. Then i noticed what kind of a lying sack of pig s**t she really is," Danielle wrote.
Article continues below advertisement
"I hate all heroin junkies," she said. Danielle claims to be ten months sober from heroin and denies she overdosed in October so she slammed Jenelle's addiction.
"And I hate junkies that pick drugs over their children. That REALLY erks sic my f*****g nerves."
Jenelle is never one to ignore a good fight so she ripped the 16 & Pregnant star and shared the messages where Danielle admits that she did overdose on heroin and spent time in the hospital.
"Right Danielle is SUCH an angel... Talks about me doing heroin when she was on it when I quit, lmao," 21-year-old Jenelle tweeted.
She followed that up by releasing the private Twitter messages Danielle sent to her on January 1, 2013.
"Idk I don't know if you do heroin or not because it's not my business. But I'll be the first to tell you its the hardest thing to go through. I dealt with a heroin addiction for 6 months and it ruined my life. I now have an opiate blocker in my arm and have been clean for 2 months. After overdosing and ending up in the hospital for 3 days. Heroin isn't something easy to overcome. And if you ever need to talk, I'm here."