Exclusive
From Harry Potter To Drunk Loner: New Tell-All Reveals Daniel Radcliffe's Dark Downward Spiral & Secret Pain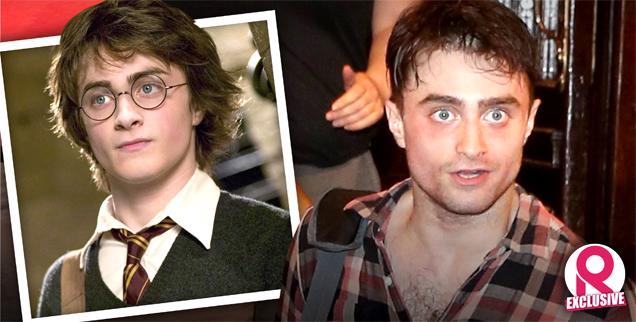 With a gorgeous actress girlfriend, Erin Darke, and rave reviews for his new Broadway play, Daniel Radcliffe is on top. But in a shocking new tell-all, journalist Randy Jernigan reveals the beloved Harry Potter actor, now 24, battled secret demons—including a debilitating motor disorder, extreme alcohol abuse and heartbreaking grief after death of his best friend— on his road to success.
Jernigan, who spoke with 19 of the actor's close friends and work associates to write The Life and Career of Daniel Radcliffe (on bookshelves in July), exclusively tells RadarOnline.com all the juicy details.
Article continues below advertisement
Though a spokesperson once called Radcliffe's condition "very mild," Jernigan says the actor was devastated by his diagnosis with developmental coordination disorder— a chronic neurological disorder affecting movement and memory.
"He would go into episodes where he couldn't do anything, even tie his shoes," Jernigan tells Radar of Radcliffe's early days on the Harry Potter set (the franchise's first film, Harry Potter and the Sorcerer's Stone, was released in 2001). "They had to stop production more than a few times."
"Daniel felt the disorder held him back in a lot of ways," the author continues. "He didn't feel like a normal kid. He felt lost."
As a way to deal with his frustration with the disorder, Jernigan says, Radcliffe turned to alcohol and partying.
in his early teen years. "He snuck drinks when he lived at home with his parents," the writer says. "Then when he moved out with a friend at just 17, he became totally dependent on alcohol. He tried to hide his issues behind the drink."
Article continues below advertisement
"The show took a lot out of him," Jernigan claims. "He had to learn a very deep Irish brogue and put so much time into rehearsals. He relapsed because he went back to his old ways of thinking. He felt like he wasn't good enough."
Radcliffe was soon dealt another devastating blow: the sudden death of his Harry Potter costar and close friend, Richard Griffiths, in March 2013.
"Daniel considered Richard his best friend," Jernigan says. "He openly wept at the funeral. He was very disturbed by Richard's passing. It really set him back."
Article continues below advertisement
SET PHOTOS: Harry Potter And The Deathly Hallows
Fortunately, Radcliffe has been sober ever since his brief relapse, Jernigan alleges.
"At his home, he recently served a friend champagne, but he stuck to water," the author says. "He told her he doesn't drink anymore, he just doesn't need to."
Instead of drinking alone, the reclusive Radcliffe now heads home and buries himself into books.
"He has a passion for reading. He reads one book after another," Jernigan says. "He doesn't do a lot of partying, it takes him places he knows he shouldn't go."
Are you shocked by Radcliffe's dark past? Sound off in the comments.