Crocodile Hunter's Final Moments: Never-Before-Seen Footage Of Steve Irwin's Last Hours Before Shocking Singray Death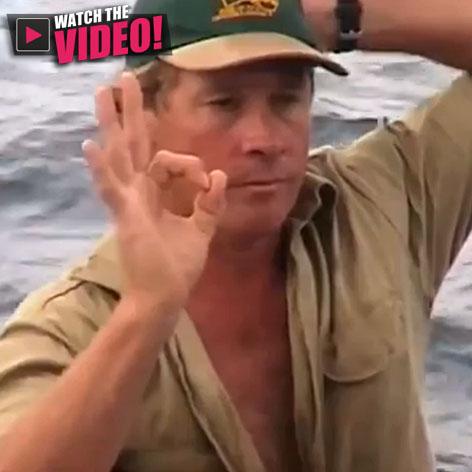 New never-before-seen footage of 'Crocodile Hunter' Steve Irwin in the final moments before losing his life to a stingray have surfaced.
The clip was taken by a British tourist named Steffen Hill who met Irwin, 44, while vacationing in Australia, where the animal activist died on Sep. 4, 2006.
"I read something somewhere recently which said the clips of the actual accident had been destroyed. I suddenly realized this meant that I probably had the last video of him before he died," Hill, 30, told the Mail Online.
Article continues below advertisement
"He looked quite happy on the day, nothing seemed to be bothering him. I spoke to him very briefly about what he was doing and told him I really admired and enjoyed his work."
Irwin is seen in the video footage giving a big 'OK' symbol with his hands, just hours before falling victim to the eight-foot wide stingray.
"It has been almost eight years since the accident and I finally have emotional distance from it," Hill said.
"I had nightmares for some time afterwards because I kept thinking we were so close and something could have happened to us."
Hill's footage was taken on Sept. 3, 2006, shot from a boat he and his father chartered on the Great Barrier Reef. The duo was giving a ride to once of Irwin's researchers out to his boat to meet up with the crew for the documentary they were shooting.
"I didn't realize Steve was on the other boat at first, I just knew we had to take this researcher across there because they were filming puffer fish. It was quite a windy day and when this man came back to us he said they had been unable to find any puffer fish at all and he was really disappointed," Hill said.
Article continues below advertisement
"He said they had switched to Tiger sharks or something like that but because of the weather they had been unable to find any of those too. I think they were discussing just filming something and in the end settled on stingrays because there were lots of them around."
As RadarOnline.com previously reported, Irwin was slashed by the stingray the next day and cameraman Justin Lyons revealed in March that his last words were, "I'm dying."
Lyons was filming with Irwin on the fateful day as they rode in a boat off the Australian coast. They wrapped up taping a documentary and recalled how the stingray "started stabbing wildly with its tail, hundreds of strikes in a few seconds."
It was only when "Steve was standing in a huge pool of blood that I realized something had gone wrong," Lyons told Australia's Studio 10.
"He had a about a two-inch injury over his heart with blood-fluid coming out of it; he was in extraordinary pain. Even if we'd been able to get him into an emergency ward at that moment, we probably wouldn't have been able to save him because the damage to his heart was massive."