The Moment A Trained Tiger Attacked: Cat 'Lunged At,' 'Pierced' Trainer's Neck In Surprise Ambush At Steve Irwin's Zoo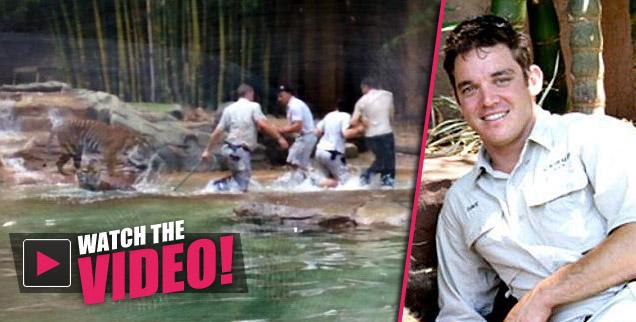 Witnesses to the carnage, after a tiger attacked trainer Dave Styles at Steve Irwin's Australia Zoo Tuesday, are describing the harrowing incident in full detail, as many onlookers were present when the big cat dragged the man into a pool.
Styles, who has eight years experience training tigers, was in stable condition at Royal Brisbane Hospital after suffering blood loss and wounds near his vital blood vessels in the wake of the attack. Styles, 30, was helicoptered via RACQ Careflight to the hospital.
Article continues below advertisement
Styles "was wrestling with one of the tigers and it suddenly grabbed his shoulders and lunged at his neck,'' witness Carly Fritsch told Australia's Daily Telegraph.
Watch the video on RadarOnline.com
She said after Styles arose from the attack, "You could see he had been pierced'' by the animal.
When four trainers ran to assist their colleague, "One of them was hitting the tiger with a stick,'' Perth native Jake D'Olimpio told the paper.
Zoo director Wes Mennon said emergency professionals "acted professionally and calmly" in assisting their peer.
"Our priority is the wellbeing of the handler, who is a valued member of our Australia Zoo family," Mennon said. "Our full support is with the handler and family."