Exclusive
'Courtney Told Me She Would Kill A Rock Star One Day': Love's Dad Reveals Dark Prediction In New Tell-All, Details Her 'Berserk' Drug Binges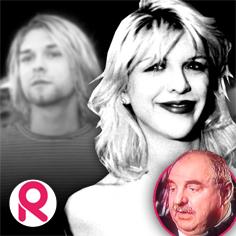 UPDATE May 5: Love told the Seattle Times in a May 2 email she, not Cobain, wrote the note in question, and that she meant for it to be read in a sarcastic tone. The singer claimed she penned it in 1991, three years before her husband's death.
* * *
In a possible foreshadowing of sinister events to come, Courtney Love's father, Hank Harrison, says his troubled daughter once told him she planned to one day kill a rock star, RadarOnline.com can exclusively reveal.
Article continues below advertisement
In his unpublished book Love Kills: The Assassination of Kurt Cobain, the author and onetime Grateful Dead, manager recalls a conversation he had with a friend immediately after he learned of his rocker son-in-law Kurt Cobain,'s tragic death, deemed to be a suicide, on April 8, 1994.
"She always said she was going to kill herself a rock star," Harrison recalls saying of his now-estranged Hole, frontwoman daughter. He says he "trembled uncontrollably" and felt nauseous, knowing something was "off-the-wall" about Cobain's untimely death.
Later in Love Kills, Harrison— who admits he hasn't seen his 49-year-old daughter in more than twenty years— recollects taking his troubled daughter into his California home after she completed a stint in a juvenile correctional facility. (Love was allegedly locked up for shoplifting.)
At just 16, Harrison writes Love was never without a "cigarette in one hand, wine in the other."
He says she soon became addicted to hard drugs, including heroin.
Article continues below advertisement
"Courtney went berserk on drugs… She was regressing in plain view," Harrison writes in the tome which he is currently shopping to potential publishers. "I knew she was into smack. The marks on her arms and bare feet showed me all I needed to know."
The angry teen began stealing jewelry and books from her father's home, he alleges, and started acting violently.
"Courtney's dark side ran to the surface," continues the writer, who says Love wrongly accused him of deserting her in her parents' divorce. "In 1984, Courtney hated me enough to kill me."
"I'm convinced that life in 'juvie' and hard drugs stole Courtney's basic feelings of humanity."
As RadarOnline.com exclusively revealed, Harrison believes his daughter was responsible somehow for Cobain's death. (The Nirvana, frontman, just 27, died of a gunshot wound to the head in his Seattle home.)
The Seattle Police Department recently released death scene photographs, including a handwritten note found in the lifeless Cobain's wallet. On the hotel stationary, the singer calls his wife a "b*tch" and accuses her of spending his money on "doping and whoring."
After a new look into the case, the SPD has concluded that Cobain's death was indeed a suicide.
Love has not returned Radar's request for comment.