Cop Causes Man To Lose Testicle During Traffic Stop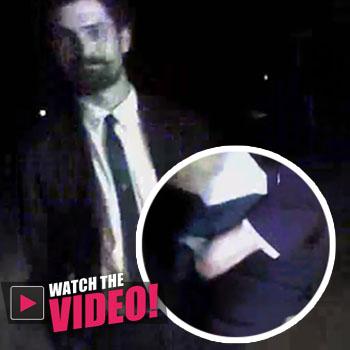 A 24-year-old law student lost a testicle after it was "shattered" following a brutal run-in with a police officer, the man's lawyer said.
University of New Mexico college student Jeremy Martin was pulled over by Albuquerque Police Officer Pablo Padilla, who arrested him in connection with DUI and marijuana possession.
Martin became defiant toward the lawman when he was told to park himself on a curb, standing up and telling the officer, "Mace me. Mace me, please. I would love for you to mace me. That would be fantastic."
Article continues below advertisement
In the incident, according to Martin's lawyer Sam Bregman, Martin's testicle was crushed between the policeman's knee and a truck, leading to the surgical procedure.
You Can Sue For That? The 53 Wackiest Lawsuits
Bregman said the man intends on suing the APD in federal court for the "completely unacceptable" exchange.
"We will be filing a lawsuit in the coming weeks for battery and excessive use of force in violation of his constitutional rights," Bregman said.
Article continues below advertisement
Watch the video on RadarOnline.com
APD officials said they'll launch an investigation into "allegations" made by the wounded man.
The officer, Padilla, has come under scrutiny in other incidents, as he was acquitted by a federal jury in 2013 after breaking a woman's arm by twisting it too hard during a drunk driving stop.
Shocking Stories You Didn't Believe But Turned Out To Be True
In April, the department came under the scope of the U.S. Justice Department for its outlier number of incidents involving excessive force dished out by its officers.
"Albuquerque police officers often use unreasonable physical force without regard for the subject's safety or the level of threat encountered," the DOJ said. "Officers frequently use takedown procedures in ways that unnecessarily increase the harm to the person."
Readers, what are your thoughts on this story?