Exclusive
Muhammad, Jesus … Phil Robertson? 'Duck Dynasty' Star's Son Alan Says Homophobic Reality Star Is A '21st Century Prophet' In Inflammatory New Rant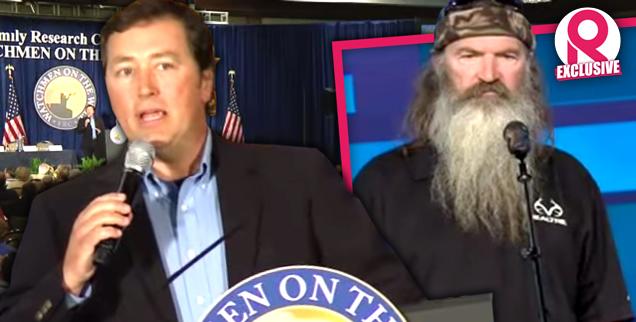 You know what they say: The family that flocks together, rants together.
That's certainly the case when it comes to the Duck Dynasty clan who is still not backing down from its homophobic views after patriarch Phil Robertson was blasted in the media for comparing homosexuality to bestiality in an interview with GQ magazine in December 2013.
In fact, the controversial reality TV family, whose new season starts June 11, is continuing to preach from their anti-gay soapbox and taking it even one step further by calling Robertson a modern day prophet.
Article continues below advertisement
Following in the footsteps of his dad's vitriolic Easter Sunday sermon, RadarOnline.com can exclusively reveal that his son Alan Robertson spoke at the Watchmen on the Wall conference May 22 and not only defended his father's hateful words — but referred to him as a saint.
"It hasn't changed us one bit on who we are and what we believe and what we teach other people and it won't," Alan told the packed audience about the backlash his family faced last year.
He spoke of how much the biblical figure, John the Baptist, even looks like his father.
"My dad, Phil Robertson, has the heart and the mindset of a prophet… long hair, long beard, naturally camouflaged, he ate off the land and he pointed people to Christ," said Alan.
"He was a voice of one, calling in the wilderness, prepare the way for the Lord."
He also notes that John the Baptist was a martyr much like his father, who has also faced similar public outcry.
Article continues below advertisement
"He John also lost his head for speaking the truth in a culture that really wasn't prepared to hear truth," he said.
"And yet, you know what -- that doesn't change dad's view at all. Prophets tend to not care about their public image, they tend to talk about judgment as if it's real and they speak what God gives them to speak and that's what my dad does... so he is in that sense a 21st Century prophet."
Robertson, who added that his family "not about being of this world," continues in his speech that the patriarch actually raised eyebrows months before his now infamous interview made headlines late last year.
50 Of The Most Outrageous 911 Calls ― Proof People Are Crazier Than Ever!
It all started when a local reporter in Monroe, La., expressed his concern after hearing Phil speak: "He was ghost white, his eyes were this big around, he said 'Al, we got a problem... if this gets out you guys are in trouble… this is going to cause you guys a lot of grief and trouble because this message is not politically correct.' I said, 'Greg you need to write that, I think you're right.'"
Article continues below advertisement
Phil's son also recalled one of the first times producers filmed them saying a prayer around the table when they were met with the Duck Commander's sharp tongue.
"Lord, I just pray today for this group that's here from Hollywood, California," Robertson recited, with a laugh.
Duck Dynasty: Family Stands Behind Phil, Gingrich Gripes & More
"I pray that they repent and turn to you before you burn them all in the end."
Watch the video below and let us know, do you think A&E should allow the Robertson family back on air?