Duck Dynasty Myth Busted: Jep's Conservative Wife Says Women 'Hold Down The Fort' While Men 'Play'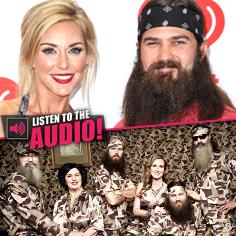 The Duck Dynasty crew has only garnered massive support throughout the country after family patriarch Phil Robertson unleashed his homophobic comments, was suspended from the show and then brought back as A&E bowed to the demands of the viewers, and the conservative lifestyle the reality show stars embody continues down through the generations according to Jep Robertson's wife Jessica.
The blonde southerner dgave an interview to WMC-FM Memphis, "Today's Best Mix!" where she revealed that while it seems like the men in the family rule the roost, that isn't the way things really are.
Article continues below advertisement
"While the men are playing we're holding down the fort, that's what we're doing," Jessica said.
As a mother of four, she detailed her busy days, saying: "Most mornings I cook breakfast and get everybody ready for school. I take them to school every day. Unless I'm filming, which is maybe twice a week."
Jessica, whose husband revealed a wild past of boozing and drug use, says she has two main responsibilities: "Making sure groceries are bought and husbands are taken care of."
And her method to a healthy marriage?
"Jep and I eat lunch together at least 3 times a week. We spend a lot of time together. I think that is really important to really value your marriage and hopefully your spouse is your best friend. I'm really blessed he's an easy going Robertson man."
While the family came under fire for Phil's comments, Jessica still says that religion is one of the most important things in her family and that's the advice she would give to other people to have a happy life.
"Just love in god and love in each other, if you do those two things, even through the chaos and bad things that go on in the world, you'll have a little peace of mind and peace in your soul."