Exclusive
Chew & Screw: Teresa, Joe Giudice & Pals Stiff Waitress 25 Cents During Night Out In New Jersey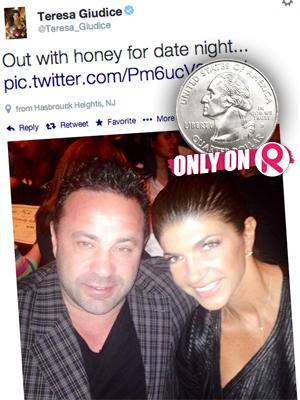 Article continues below advertisement
GALLERY: The Giudice's 30 Most Shocking Quotes About Fraud & Finances
"Once inside, Teresa sat with a menu covering her face for a little while. She didn't even look at the waitress. Her friends ordered her cosmos for her," our onlooker added.
And "Juicy Joe" wasn't any better.
"Her husband was rude," said the spy-witness. "He ordered a drink and when the waitress set it down, he snapped at her asking, 'Where's my straw?' When she returned with a straw and he just grabbed it out of her hand, with no regard for her."
Article continues below advertisement
The final insult, however, came at the end of the night.
"When the check was delivered, Teresa's friends paid it... the Giudices didn't even go into their pocket," said the source.
"The best part is that the check was $201.25 and they gave the waitress $201.00 and told her that they didn't have a quarter. I will mention that 18% gratuity is included. Thank God, or the waitress would have been screwed!"
The nonsense continued at the bar next door, Gabriel's, according to the witness.
"For somebody that didn't want people to bother her, she and her crew stayed at the bar and were loud. I heard her friend say, 'Ewe, it smells, Teresa farted!' Teresa replied, 'No I didn't, do you want to smell my asshole?' It was a classless performance!"