Reese Witherspoon Arrest Audio: Husband Jim Toth Throws Drunk Wife Under The Bus -- Listen To The Proof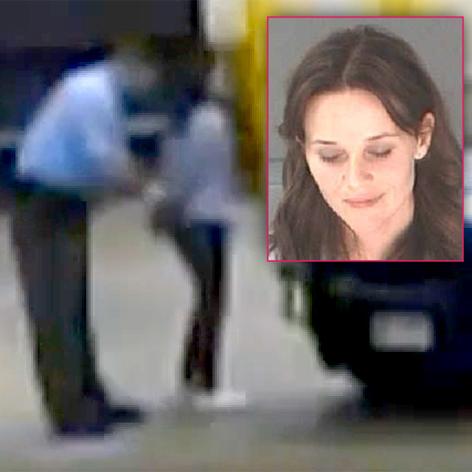 Not only did Reese Witherspoon get arrested on April 19 for disorderly conduct, but new audio from the dash cam footage of her encounter with Atlanta police reveals what sounds like her husband Jim Toth is heard throwing his own wife under the bus!
While Jim stands outside the police car in handcuffs the Sweet Home Alabama star emerges demanding to know what's going on, and when she doesn't get her way she hurls threats at the arresting officer and refuses to get back in the car stating, "Do you know my name, sir? You're about to find out who I am."
Article continues below advertisement
After being uncooperative Reese is arrested and placed back in the police car — and it's then that Jim is heard telling the officer about his wife's behavior, "I had absolutely nothing to do with that." Listen to the Jim's comments to the officer below.
Clearly embarrassed by his wife's drunken display of self-righteousness, Jim tried to distance himself from her behavior to save his own butt.
Below is a full transcript of the audio obtained:
"I'd like to know what's going on," Reese demands.
"He's under arrest. If you don't get back in the car…" the officer replies.
"I'm a US citizen! I'm allowed to stand on American ground and ask any question I want to ask. You better not arrest me," she threatens.
"Yes ma'am," the officer says while pulling her hands behind her back.
"Are you kidding me?! I'm an American citizen," Reese argues.
"I told you to get in that car there, didn't I?" he says.
Article continues below advertisement
"This is beyond. This is beyond. This is harassment. You're harassing me as an American citizen. I have done NOTHING against the law," she says.
Reese's husband is then heard saying her name, trying to calm her down.
After the officer tells her she broke the law she exclaims, "I have to obey your orders? No sir, I do not."
"Reese, not tonight," Jim pleads. "Reese, Reese. Relax."
"I'm now being arrested and handcuffed? Do you know my name, sir?" Reese asks.
MORE ON:
Reese Witherspoon
"Don't need to know," the officer replies.
"You don't need to know my name?" she asks.
"Not quite yet," he says.
"Oh, really? Okay, you're about to find out who I am," she says.
"That's fine. I'm not real worried about you ma'am," he says. "I done told you how things work. You wanna get out and get up in my investigation, that's okay."
"Yes sir, I do," Reese snarks back.
"We have a law for that," he explains. "It's called obstruction."
Article continues below advertisement
"I'm obstructing your justice? Really? I'm being anti-American?" Reese says as the officer puts her back in the car and says, "Go ahead and sit down."
"Wow! Interesting, arresting me," Reese muses to herself.
"I tried," the cop says to Jim as he walks back out.
"I'm sorry," Jim responds.
"I absolutely one hundred percent tried," the cop continues.
"I had nothing to do with that," Jim is heard saying.
Reese reportedly pled no contest to the disorderly contest charge Thursday morning in an Atlanta courthouse.
The Oscar-winning actress didn't appear in court, but was ordered to pay a $213 fine while her husband faced a judge and pled guilty to driving under the influence.
Jim was ordered to perform 40 hours of community service, attend an alcohol education program and was placed on 12 months probation.
During sentencing, the judge reportedly said, "Consider yourself fortunate you didn't injure your passenger Reese and didn't kill anyone."
radar_embed service=5min.com src="http://pshared.5min.com/Scripts/PlayerSeed.js?sid=1126&width=570&height=351&playList=517766401&sequential=1&shuffle=0"