Exclusive
'He Placed The Knife On My Neck & Threatened To Kill Me & Himself': 'Scandal' Star Columbus Short's Wife Reveals Horrifying Abuse Claims -- In Her Own Words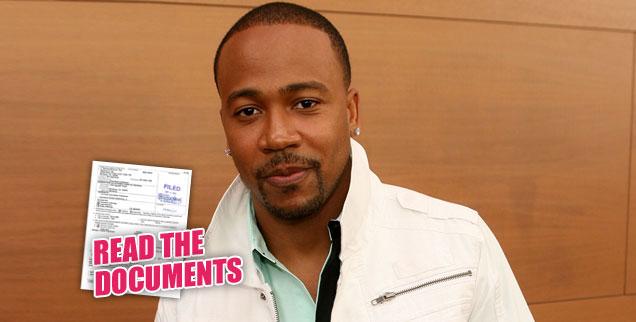 A terrifying encounter with a drunken, knife-wielding mad man threatening murder and suicide sounds like the plot of an episode of Scandal. But for series star Columbus Short's wife, Tuere Tanee Short, it was horrifying reality on the night of April 7, when she claims the actor assaulted her in their home. Tuere provided a terrifying account of that night to a Los Angeles court when she filed for a temporary restraining order against her husband as part of their ongoing divorce proceedings on April 14, and only RadarOnline.com has the entire narrative of what she says she endured — in her own chilling words.
Article continues below advertisement
At about 9 p.m. on April 7, 2014, I was on the phone with Columbus' personal assistant. Columbus, who appeared intoxicated, walked into the room with a wine bottle and stared at me threateningly. He then charged me, grabbed the phone, and started yelling at me abusively. He lunged at me a few times and acted as if he was about to hit me with the bottle. I tried to get away from him but he followed me. He then cornered me and dumped the wine on me.
Columbus then continued to berate me abusively. Again I tried to get away, but he followed me, and while I was close to the upstairs railing (which is about waist high) he shoved me and almost caused me to fall over the railing, but I was able to catch myself. I then ran downstairs. He ran downstairs after me and grabbed a knife from the kitchen.
He then pinned me on the couch and began to choke me. He placed the knife close to my neck and threatened to kill me and then kill himself. He insisted that we play a game he called 'Truth or Truth' and told me if I lied to him he was going to stab me in the leg. He started randomly listing names of people we knew and accused me of having an affair. I denied his accusations each time … after each denial he stabbed the couch next to where I was or stabbed other nearby furniture. He placed the knife next to my throat two more times and again threatened to kill both of us.
Article continues below advertisement
At this time, I heard our two-year-old daughter upstairs, who was woken by the screaming. I tried to get up and go comfort our daughter, but he told me not to get her — he would not let me get off the couch. He then saw that I had a credit card in my hand, and he grabbed it from me. He went to go hide the credit card, at which time I ran upstairs and got my daughter. I then ran outside and got into the car. Before I could drive off, Columbus ran to the car and started hitting the window. Then he tried to get behind the car and block me from leaving. I was able to slowly maneuver the car and drive away.
I began driving to my nanny's home, but when I was a couple of miles away, I noticed a loud noise coming from the car and I suspected I had a flat tire. I pulled into a gas station and then saw that the tire was completely flat and it appeared to have been slashed. He likely slashed the tire as I was driving away from the house.
Sadly, this was not the only instance in which Tuere claims Columbus made her and her daughter's lives a living hell. She also provided the court with details from two other alleged incidents from earlier in the year.
Article continues below advertisement
On February 18, she claims in the documents, Columbus "pushed me and started screaming that I needed to leave. He also threatened to hurt me. His yelling woke up our 2-year-old daughter. I went to our daughter's room. She was scared and shaking."
"I tried to comfort her," Tuere claims, but Columbus "came in and grabbed her from me … and shattered my cellphone."
She later used her nanny's phone to call the police, and they arrested him when they arrived, according to the documents.
And in an earlier incident on February 3, she claims, "I was sleeping … Columbus jumped on me and woke me up. He started choking me. After I was able to get out of bed, he chased me around the house, at times cornering me and pushing me."
"He was constantly threatening me," she writes in the documents. "I tried to hide in a room, but he dragged me out and threw me to the floor."
Article continues below advertisement
Shocking Stories You Didn't Believe But Turned Out To Be True
These are just the latest in a string of violent incidents involving the actor this year. Last month, he was charged with felony battery in connection with a bar fight, and faces four years in prison. The court has not yet set the date for his initial appearance in that case.
Story developing.