Love Rat Droppings? Ramona Singer's Husband Mario Exchanged More Than 40 Texts With Young Mistress; Didn't Wear Condom During Final Roll-In-The Hay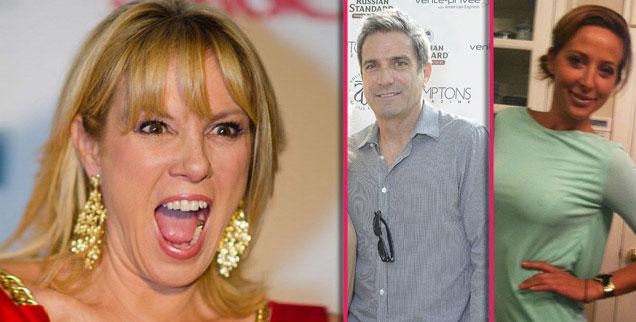 A series of more than 40 text messages between Ramona Singer's estranged husband Mario and the personal trainer she implicated him of sleeping with have been brought to light, shedding new insights into the relationship the two purportedly shared, or still do share.
As we previously reported, the 57-year-old Real Housewives of New York beauty implicated her 59-year-old husband of two-timing her with 32-year-old fitness professional Kasey Dexter.
Article continues below advertisement
"I'm missing your lips and eyes and laugh and … expletive," Mario Singer texted Dexter, according to the magazine, adding that he "must be the biggest idiot on the expletive planet to care so much about a girl like you."
While the Singers have been on better terms as of late -- Mario has moved back into the family home -- he's still gaga over Dexter, as an insider told the magazine Mario "was texting Kasey the whole time," after his return to the abode, as "he thinks he can have them both."
If the love triangle wasn't salacious enough, the magazine also reported that Mario and Dexter "didn't use condoms" during intercourse when they had a last hurrah weekend in Boca Raton, Fla. before he returned to the family home. Dexter, who's been dogged by rumors of an abortion during her time with Singer, plans on keeping any child the two conceive in their trysts moving forward -- condom or no condom.
Article continues below advertisement
"She's made it clear that if she's pregnant again, she won't get an abortion," the insider said. "She loves him and believes they should be together."
The Mario-Dexter relationship took a turn for the scary back earlier this year, when when Ramona caught her husband fooling around with the toned trainer at the family's Hamptons home, leading to an incident that saw police being called and later, divorce papers being drawn up.