Exclusive
Ramona Singer Filed For Divorce AFTER Filming 'RHONYC' To Avoid Drama Being Played Out On Show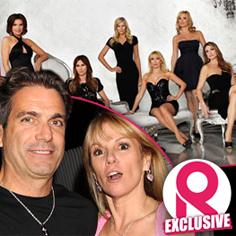 They say timing is everything and RadarOnline.com has learned exclusively that Real Housewives of New York City star Ramona Singer purposely didn't file for divorce from her love rat husband, Mario, until AFTER filming of the upcoming season was finished because the reality star didn't want the drama to play out on the hit Bravo show.
Insiders tell RadarOnline.com that Ramona decided to finally pull the plug on her 27-year marriage to Mario after he was accused of cheating on her with a much younger woman, Kasey Dexter.
Article continues below advertisement
"But it was only after completing filming of RHONY. Ramona knew for months that Mario had been cheating on her....she only chose to confront him and Kasey at their Hamtpons home after the cameras had long disappeared," the source said.
"It was a very calculated decision on Ramona's part...Ramona didn't want her divorce drama to become a storyline on the show. She hopes that the divorce will be settled and done with before the next season begins filming. It's humiliating for Ramona to live this nightmare, and she doesn't want it to play out on television."
Ramona filed for divorce after a heated confrontation at their home in the Hamptons, in which police were called to the scene. In that incident, Ramona, 57, was reportedly infuriated after catching Mario, 60, with his rumored mistress, 32.
The couple, who have a daughter named Avery, had attempted to put a positive spin on their relationship until it was no longer feasible.
Mario dumped Kasey, after the alleged affair was made public.
Viewers of the RHONY will see "Ramona deal with rumors of Mario's infidelity.....He will hardly be in the upcoming season. They were basically separated during the entire course of filming. Their daughter, Avery, is away at college in Atlanta, and Ramona has been living alone in the New York City apartment for months," the insider added.
"It's really sad because Ramona has told friends how empty and quiet it is without either one of them around."