Paul Walker's Mother Drops Bid To Gain Custody Of His Daughter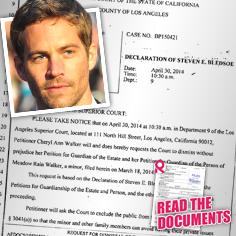 In a shocking twist to the battle over the daughter Paul Walker left behind, 15-year-old Meadow, his mother, Cheryl Ann Walker, has filed legal documents seeking to drop her bid to become the primary guardian of the child, RadarOnline.com has exclusively learned.
Just last month Cheryl filed legal documents asking a judge to make her Meadow's guardian, because, she alleged, Meadow's mother Rebecca Soteros has a "drinking problem." The judge had even formally appointed a court investigator to meet with Meadow, and the family, in the hopes they could resolve the situation on their own -- which it appears has been accomplished.
Article continues below advertisement
Legal docs filed by Cheryl's attorney state, "This request for Dismissal of the Petitions without prejudice is made for the reasons which Cheryl Walker communicated to the Court appointed investigator, and which will be presented to the Court hearing, if necessary."
According to People magazine, Soteros agreed to go to rehab in order to get custody of her daughter.
Meadow's young life was thrown into a tailspin last November when her dad Paul died in a fiery car wreck on November 30 in Santa Clarita, California.
According to court documents previously obtained by Radar, Cheryl told the court that Meadow "needs a guardian in place so that the money she is entitled to," at least $16 million in a trust left by the Fast & Furious star, "can be disbursed to the guardian," namely Cheryl.
Soteros and Meadow had been living with Cheryl prior to her attempt to get custody of the teenager.