Where Did Oprah's Millions Go? Lindsay Lohan Is Broke!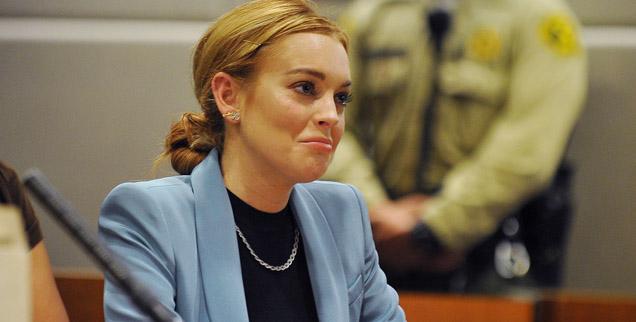 Lindsay Lohan was paid $2 million to film her self-titled docudrama for Oprah Winfrey's OWN network, however, multiple sources tell RadarOnline.com the actress has already burned thru the money -- and is currently broke.
"Only Lindsay could get paid such a large paycheck and once again be in dire financial straits," a source told RadarOnline.com exclusively. "After Lindsay's manager, agent, publicist and taxes were paid … she was left with $750,000.
Article continues below advertisement
"This was last year, and Lindsay has never been able to save any money in her life. Her reality show has been sold overseas, but she will only get $250,000. That money gets divided up among her team, and Lindsay is left with less than $100,000."
The insider said that LiLo "blows thru money faster than she spend it" with lavish, beyond-her-means, shopping excursions.
As we previously reported, the Mean Girls star over the weekend was declined — twice! — as she attempted to buy $300 worth of goods from Rag & Bone in Soho, New York Sunday.
"She looked really embarrassed and tried to negotiate before her friend finally stepped in and paid," a source told the NY Post, while a publicist for the 27-year-old actress told the paper the report was untrue.
RadarOnline.com broke the story: the controversial actress' long-suffering assistant Matt Harrell quit because the troubled starlet couldn't afford to pay him after production on OWN network show.
"Matt had moved from Los Angeles to New York City to work for Lindsay," a source tells RadarOnline.com exclusively. "He is extremely professional and very good at his job.
Article continues below advertisement
"Previously Matt had worked for Prince, and to say working for Lindsay was difficult and chaotic would be an understatement."
But once production on her reality show concluded, Lohan told Harrell she couldn't keep him on.
The 17 Highest Paid Media Figures On TV
"Matt still agreed to accompany Lindsay to do press for the show," the source previously told us. "He even went with her for her appearance on Ellen. He is hoping to get another job with another celebrity by helping Lindsay out."
Meanwhile, Lohan's only future work she has lined up is for Inconceivable, which she is producing and starring in.
Lohan's rep didn't immediately respond to a request for comment.