More Kim Kardashian FAKERY: Reality Starlet Busted Posting Google Image Of Thailand As Her Own!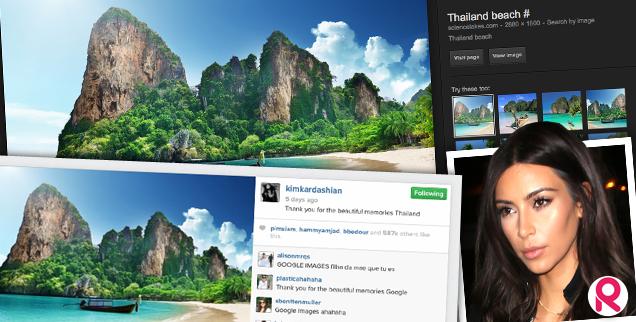 Kim Kardashian has done it again; deceived her fans into believing she was at a picturesque beach in Thailand, when in fact she wasn't at all.
After having a luxurious vacation in Thailand with her family, Kardashian, 33, posted a photo to her social media pages on April 2 with the caption, "Thank you for the beautiful memories Thailand," but RadarOnline.com has learned she didn't snap the pic herself — it's a photo easily found on Google Images!
Article continues below advertisement
After having posted tons of photos from her Thailand trip, it was an odd choice for Kanye West's fiancée to use a photo that didn't belong to her.
http://instagram.com/p/mUI0RDuS50/
While plenty of fans initially posted their jealousy that Kardashian and her family were somewhere so gorgeous, it wasn't long before followers started slamming the former sex tape star for scooping a Google Image.
"Thank you for the beautiful memories Google," one follower wrote sarcastically.
Another wrote, "B*tch this is from Google."
A simple Google Image search with the keyword "Thailand," and the photo Kardashian posted pops up in the top 20.
Kardashian's photo garnered nearly 600,000 likes on Instagram.
This isn't the first time Kardashian and her Keeping Up With The Kardashians family have been caught faking it.
As Radar reported last year, a producer on the reality TV show admitted under oath in court that scenes were purposely faked to make Kardashian's ex, Kris Humphries, look bad.
And earlier this season Kardashian was spotted in an episode with her enormous engagement ring on — before the episode aired where West proposed.
Do you think Kim using the Google Image was deceitful, or just an honest mistake? Sound off in the comments below…