More Kim Kardashian FAKERY: Reality Starlet Busted Posting Google Image Of Thailand As Her Own!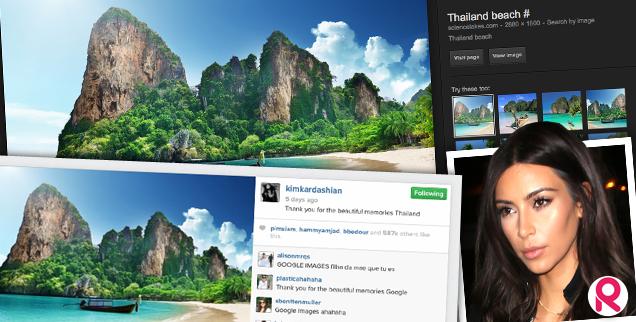 Article continues below advertisement
After having posted tons of photos from her Thailand trip, it was an odd choice for Kanye West's fiancée to use a photo that didn't belong to her.
http://instagram.com/p/mUI0RDuS50/
While plenty of fans initially posted their jealousy that Kardashian and her family were somewhere so gorgeous, it wasn't long before followers started slamming the former sex tape star for scooping a Google Image.
"Thank you for the beautiful memories Google," one follower wrote sarcastically.
Another wrote, "B*tch this is from Google."
A simple Google Image search with the keyword "Thailand," and the photo Kardashian posted pops up in the top 20.
And earlier this season Kardashian was spotted in an episode with her enormous engagement ring on — before the episode aired where West proposed.
Do you think Kim using the Google Image was deceitful, or just an honest mistake? Sound off in the comments below…