Mirror, Mirror On The Wall! Kim Kardashian Couldn't Stop Staring At Herself During Aussie TV Outing 2 Years Ago, Host Recalls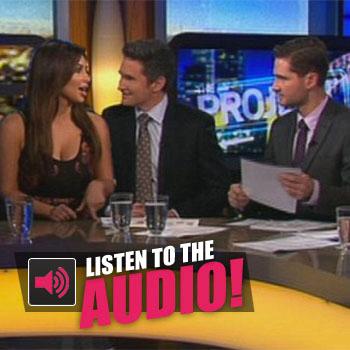 Kim Kardashian was so mesmerized by her own image during a TV interview two years ago, show producers had to alter production methods on the fly to in salvaging the awkward segment.
Australian TV personality Dr. Chris Brown, speaking with Kiis 1065's Kyle & Jackie O show Wednesday, told a story about how the socialite's narcissistic ways caused chaos among producers and camera people so the moment didn't come off completely botched.
Article continues below advertisement
"Let me tell you about Kim Kardashian: She's a very, very special human being and I know this because we actually interviewed her on The Project," Brown recalled. "We were about one or two questions in, and all of a sudden I can see there's a commotion amongst the floor managers.
"They are sort of running around and moving things around and I thought, 'I wonder what's going on there.'"
Noticing the Vogue covergirl's on-camera gaffe, organizers shuffled to make sure the bit with Kanye West's fiancee, 33, was fit for air.
"They said, 'I can't believe you didn't notice but for the first half of the interview her eye line was down and to the right,'" the doctor said. "I saw that and I just thought she was nervous, but they said, 'No, we had to move the monitors and turn them around because all she was doing was looking at herself the entire interview.'"