Exclusive
My Fair Lady! Kanye West Urges Kim Kardashian To Study High Fashion And Become 'The Next Coco Chanel'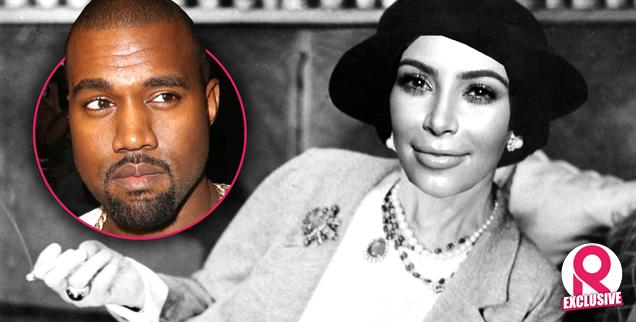 Kanye West won't rest in his attempt to turn fiance Kim Kardashian into a fashion icon, RadarOnline.com can reveal.
"Kanye truly believes Kim can be the next Coco Chanel if she puts her mind to it," a source said.
According to the insider, Kardashian "has spent the past year quietly and secretly educating herself on the subject of ultra-high fashion at Kanye's behest."
Although voluptuous Kardashian was once known for her more down market looks and line for SEARS with her sisters, since hooking up with West, she's become a designer fashion hound. And in a major coup, the couple just appeared together on the cover of Vogue!
Article continues below advertisement
West, a notorious trendsetter and clotheshorse, is now obsessed with making Kardashian the most fashionable celebrity in the world, the source added.
"Kim began her education with extensive sit-downs with the design brain trust at Rodante, because Kim wants to evolve to the next level in terms of classiness and taste and luxury.
"Kanye wants her to focus on becoming a true luxury brand that defines a generation, like famed French fashion designer Coco Chanel -- that's who she is trying to become and that's who Kanye wants her to become," the source said.
In that spirit, Kardashian channeled the late fashion icon Audrey Hepburn for an April 15 fashion shoot in which the reality TV beauty sported a demure look with faux bangs, a black turtleneck sweater, cropped pants, and black flats.
"Kim is open to trying new looks and Kanye couldn't be prouder," the source said. "The goal is to become a billion dollar couple, and they are on their way."