Have A Seat Biebs! Legally-Embattled Justin Bieber Detained For Nearly 4 Hours At LAX In Return From Japan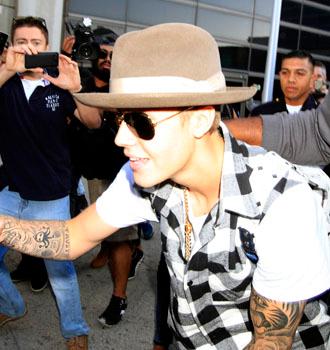 Justin Bieber spent nearly four hours in detainment at the order of U.S. custom authorities at LAX airport, as he returned from a Japanese vacation Thursday.
An insider told Mail Online that the 20-year-old "Baby" singer "was held up upon arrival, while his bodyguards and his luggage were waiting outside for him" and that he went through "routine secondary questioning" from travel officials.
According to online reports, he faced inquires about his January arrest in Miami on DUI and drag racing charges, as well as the ongoing investigation into his egging incident at his former home in Calabasas, Calif.
Article continues below advertisement