Exclusive
I Can Make You REALLY Rich! Justin Theroux Helping Jennifer Aniston 'Double' Her Wealth & Turn Her Into A 'Shrewder Businesswoman'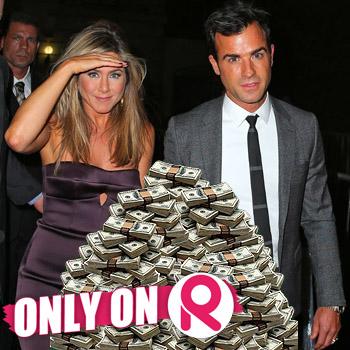 Article continues below advertisement
This is likely the ultimate precursor to a marriage between the pair, who have said they're planning to tie the knot at some point.
According to the insider, Aniston's ex-husband, Brad Pitt, wanted as little as possible to do with Jen's business life "because he was always afraid that if he gave her bad advice, he would be blamed for it. "
However, that's not the case with her current beau.
"Justin is regularly pitching ideas for how Jen can expand her business empire," the source told Radar.
"They're working on projects that they can collaborate on and which can make them both a lot of money."
Known for her Aveeno and Smartwater endorsement deals, the source said Theroux is pushing to increase her already substantial fortune, and she's on board with the plan.
"That's Justin's goal, and Jen is 'letting him' get ambitious about this."