Exclusive
Farrah Abraham Would Let Daughter Sophia Read Her Erotic Novels — And Insists She Didn't Use Ghostwriters!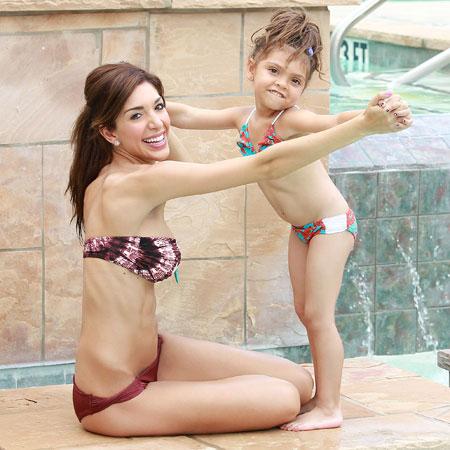 Farrah Abraham isn't ashamed of her new gig as an erotic novelist. In fact, the Teen Mom turned porn star tells RadarOnline.com in an exclusive interview that she'd even allow her daughter Sophia— who turned 5 in February — to read the steamy scenes in her Celebrity Sex Tape trilogy.
"If she wants to read it later in life, I might blush a little, but I wouldn't stop her," admits Abraham, 23, whose first novel, In the Making, follows a fictional reality star, Fallon Opal, facing sex tape rumors. "Eventually, she will have to find out that Mommy is a sexual person, just like the rest of us."
Article continues below advertisement
And the outspoken star slams critics who say she hired professional authors to do her dirty work. "There were no ghost writers," she insists. "The story and words all came from my imagination."
Though she allowed her imagination to run wild, the Backdoor Teen Mom star and Blowin' singer says she often felt "embarrassed" while penning the tome's most titillating chapters. "Sometimes talking about sex and sexuality can be embarrassing or sensitive," Abraham explains. "But at the end of the day, I want my readers to really enjoy Fallon's story, so I tried to let go and tell the best story I could. You have to really go for it!"
Abraham isn't the only budding author in her family: Her father, Michael, recently revealed he's releasing a tell-all book about his daughter's controversial life later this year. Though she alleged in February on VH1's Couples Therapy that both her parents abused her as a child, the My Teenage Dream Ended writer supports her father's new project.
"I'm happy for him," she insists. "He told me about it, and I wished him luck. I learned writing can be like therapy and really help you work through your thoughts and emotions."
In The Making hits bookshelves in July.