Exclusive
Badass 'Mob Wives' Star Drita D'Avanzo Is Putting Down Her Fists So She Doesn't End Up Like Co-Star Renee Graziano: I Fought My Whole Life, It's Not Worth It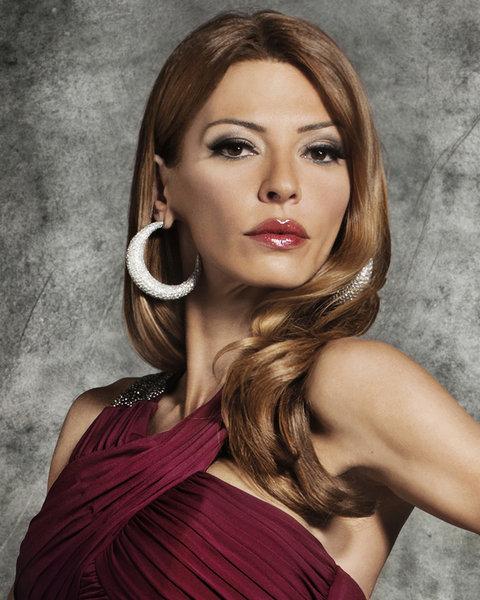 The last season of Mob Wives was a roller coaster ride for founding cast member Drita D'avanzo, who switched up her role from throwing fists to playing the mediator of the group — and to top things off, she rekindled her troubled marriage with former "street guy" husband, Lee D'avanzo.
RadarOnline.com caught up with the Mob Wives star, and D'Avanzo shared in an exclusive interview about where this past season of the show has taken her.
Article continues below advertisement
Radar: What was it like playing peacemaker this season?
D'Avanzo: I loved playing peacemaker because the truth is I actually am very much like that. But all the years on the show, there was no room for peacemaker.
Radar: Why did you decide to play peacemaker?
D'Avanzo: I was in Alicia DiMichele Garofalo's shoes and I was in Renee Graziano's shoes, so me playing mediator, I've been there. It sucks, but I try to help them out and make everything good.
Radar: How did you feel about not being the one physically fighting this season?
D'Avanzo: That was the best part! I have so many great things going on in my life, that's the last thing I wanted to do.
Radar: What advice would you give to the women who still physically fight on the show?
D'Avanzo: That it's not worth it. I fought my whole life, so I'm at that point where I would obviously like to shake that and not be like Renee. I don't want to be in her position 10 years from now if I'm still her age and still fighting.
Article continues below advertisement
Radar: What do you think about Renee relapsing with her drinking?
D'Avanzo: I'm proud of her because she overcame that. Take into consideration, Renee, she had a lot of things going on. She went to rehab. She fell off. I'm rooting for the underdog and she went through a lot. I think that watching herself relapse helped her get better because she don't want to be that person.
Radar: How do you feel about Renee writing a sex novel when she's not even having sex?
D'Avanzo: It was very confusing. If I say to you, I'm writing a how-to on makeup, you'd be like, "Oh sh*t, that's cool." It makes sense. That came out of left field. She said, "I haven't been with a man in so long," and then she also always says to everybody, "Don't write bad things or dirty things on Twitter, I have a son." So all these things confused us. We were just like, "What the f*** is that?" Whatever toots her f**king horn I guess.
Article continues below advertisement
Radar: How are you and Renee today?
D'Avanzo: We're fine. I think what people need to understand is, Renee, I didn't grow up with her. She was always my friend's older sister, so we we're not friends like that.
Radar: What's going on with your friendship with Alicia?
D'avanzo: She's herself. She's true to who she is and I like that. I didn't know her prior, but she was nice. All the times I talked to her outside the show, it was always about all her heartache and all the things she's going through.
Radar: How are things going with you and Lee?
D'Avanzo: Good. Really good. Everything's great and this year's like the only year he's watching the show and actually laughing. Prior, he never watched it. But now we're in a good place now.
Radar: What's the toughest part about having him back in your life?
D'Avanzo: I've been waiting for him to be a part of my life, and now he's part of my life and I have such a busy life. I'm like, I can't even see him. I'm like, "Lee, we've got to go away for the weekend and do things." I don't have time. Maybe that's why it's working out.
Article continues below advertisement
Radar: What was the key to putting all that tough stuff with Lee behind you?
D'Avanzo: The one thing was that I made a pact with him and said if we are going to try to move forward, we have to make believe: Close the door and lock it and never ever talk about it again. I found out he cheated on me, but there's a difference between being married to a cheater and someone who cheated. It's not like it's a constant thing and he had a million girls. People make mistakes and he proved that he changed a lot. If someone can change for you, and you can be happy and not think of the bad things, then you can do it.
Radar: What is it like to be on the other side of your drama with Lee?
D'Avanzo: I was previously like, "NEVER! I will never get back with him." It's hard to be famous and meet someone who loves you for you. When I look back, I'm like, "Wow. When he met me, I had nothing and he loved me to death for me and it wasn't like I was famous and I didn't have anything that I have today." I feel like that means a lot.
Article continues below advertisement
Radar: How has Lee changed?
D'Avanzo: The way he changed his ways, he's such a hard worker and he tries so hard, he's so good now. I feel sorry that it's a struggle. But he's doing so good.
Radar: What was it like dealing with Lee wanting to have another baby?
D'Avanzo: He didn't realize how busy and how much at work I really do. Now he does. He's cool with it, but he really did want to go for another one.
Radar: Would you return for another season of Mob Wives?
D'Avanzo: In the past, I had a hard time because I was so angry. But this year, you saw the Drita my family and friends know. I love that. If it could continue to be that way, I wouldn't have a problem going back.
Radar: Is there talk of you coming back for another season?
D'Avanzo: Season 5 got picked up, and they definitely asked for me back.
Radar: What can you tell us about your rumored spin-off?
D'Avanzo: I wish I could talk about it, but I will call you if I get a green light to talk about something. If it happens, it will be soon.
Radar: Would Lee ever film a spin-off with you?
D'Avanzo: If I had a spinoff and asked him to come on it once and a while, that's what I'm trying to strive for, but there would never be a Drita-Lee spin-off. Lee's not one for TV like that. He loves his privacy. And the thing with Mob Wives, he hates the name, so it's something he would never do. That's a real deal street guy. He no longer is that guy but at the same time, you look back on the show and one of the husbands was on it, it wouldn't make sense to me.